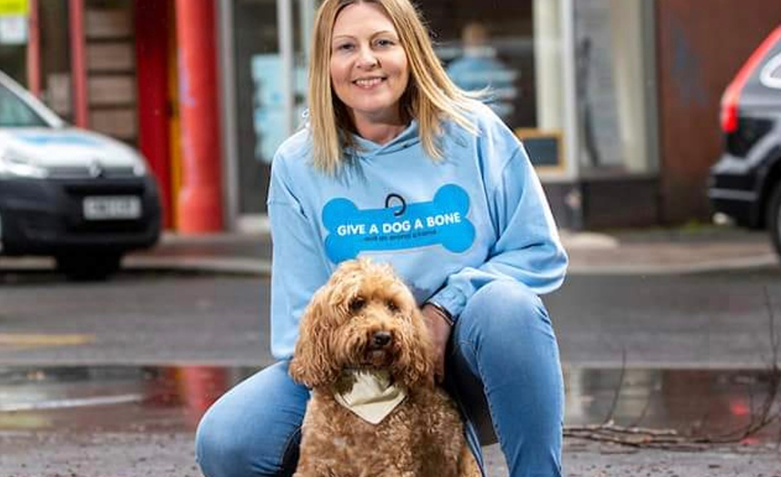 As part of our Others Day series, we wanted to feature Give a Dog a Bone, a unique and award-winning charity tackling loneliness and social isolation for older adults, via animal companionship and friendship. We think many people would consider their beloved pet as their 'Other' as they hold such support and friendship to us all.
We love the work they do to tackle loneliness in older adults as well as animal homelessness. The support they provide to enable people to afford and manage a furry companion is remarkable, we think it is such an important cause as simply having an animal companion brings welcome relief from the adverse effects of loneliness in our ageing years.
We reached out to Give a Dog a Bone to find out more about the good they do and how easyfundraising helps make a difference to their work.
Could you tell us a bit about the charity? Why was it set up and what is your mission?
We support older adults to adopt a rescue pet – it's a WIN/WIN – the person gets a friend, and the animal gets a home! For those on a low income, we can pay the initial rehoming fee and continue to support, each month, with the cost of pet food and/or insurance.
This project is UK wide. We've learned that lots of older adults LOVE animals but – for whatever reason – they can't have one of their own, so we created a solution! We now have three 'Companionship in the Community' spaces, where older adults can make new friends, learn new skills, and mix with our very special team of Companionship Dogs!
What do you fundraise for specifically?
We fundraise for both of our projects – to allow older adults to adopt a rescue pet; to tackle loneliness for older adults by providing 3 communities spaces, which are opened a minimum of 5 days per week.
Can you share some specific examples of the people you've helped?
Example 1: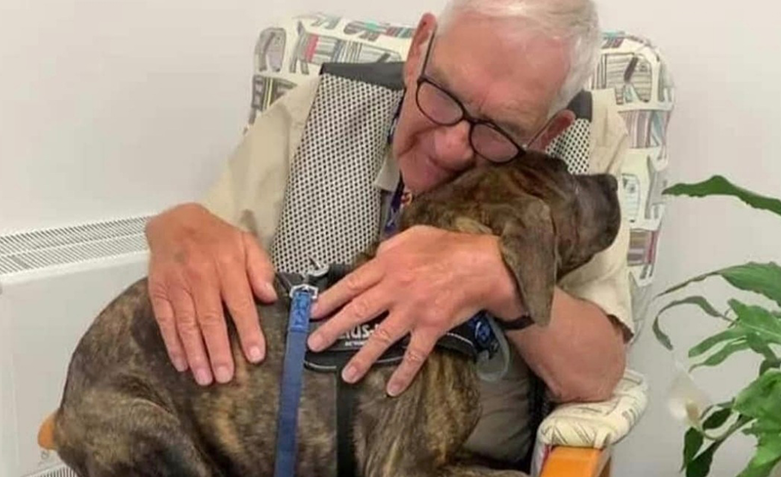 Sandy is 83 years old and is a regular in our Troon Community Space. He has been visiting since we opened in Troon in November 2018. Sandy's wife, Liz, had gone into care a short time before his first visit to Give a Dog a Bone, Troon and Sandy was lonely. Here are some of Sandy's thoughts about visiting our Community Space and the companionship offered by Give a Dog a Bone:
"It has certainly raised my wellbeing. I wake up every morning and I feel good. I'm blessed with good health. I tell people about the pandemic and how GADAB really lifted me with the calls and support. And now everything is back opened again – I feel so comfortable about coming into GADAB."

Sandy
Example 2: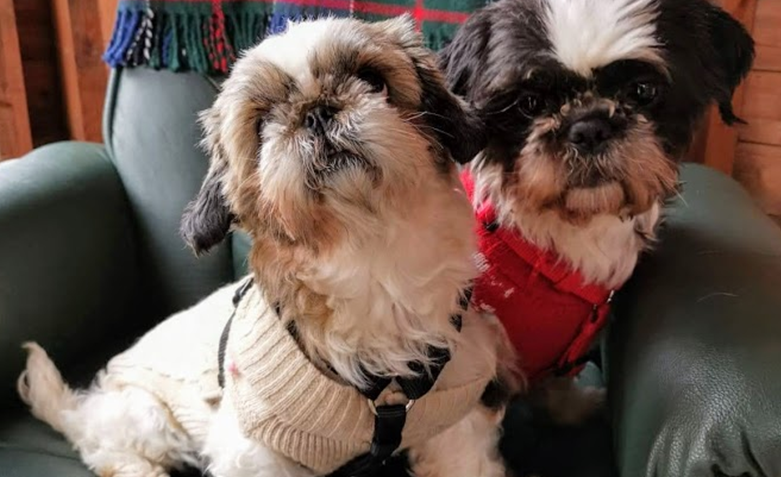 Millie and Mia are part of our monthly financial support scheme, where we pay a monthly contribution towards their care, allowing their owner to afford to care for them and have the company of a companion animal. Recently Millie and Mia's owner let us know that she, Millie and Mia have lots of cuddles and fun and that they give her a reason to get up in the morning.
How has the pandemic affected your work over the last 18 months?
At the beginning of the pandemic, we worried about how a charity tackling loneliness and isolation continues its work during a time when people were isolated and stuck at home. Many people who regularly visit our Community Spaces live alone, we knew this would be a difficult time for everyone, but especially them. Suddenly it became impossible to adopt a rescue pet, initially because of restrictions on travelling, then because there were very few rescue pets up for adoption.
We quickly adapted our service to offer companionship calls during the lockdown periods for the over 60s who felt they would benefit from them and 'The Sunshine Project' was born. During the lockdowns and heaviest restriction periods, we made our 'Sunshine Calls', sent out 'Sunshine Packs', parcels to over 60s who the charity had previously been in contact with, containing items that would brighten their day, sent out treats for the animals on our monthly financial support scheme, started hosting regular online group activity sessions via Zoom – including reiki, chair yoga, and gardening workshops, and continued to financially support over 60s to have a companion animal.
We've worked hard throughout the pandemic period to adapt our service as required, re-open our Community Spaces and provide free treatments and activities for the over 60s when restrictions have allowed, engaged with our supporters – particularly via social media, and ensured the sustainability of our charity.
How will the donations you're raising this year help? What will they go towards?
Below is a breakdown of how much it costs Give a Dog a Bone to provide the services on offer. Funds raised this year will go directly towards continuing these services:
| | |
| --- | --- |
| Raising | Gives a person over 60… |
| £15 | The gift of a therapy treatment |
| £20 | The ability to feed their cat companion for a whole month |
| £22 | Access to our group activities for a whole month |
| £30 | The ability to feed their canine companion for a whole month |
| £200 | The ultimate gift of friendship and love by allowing them to afford the rehoming fee of a rescue pet companion |
| £360 | The ability to care for their pet companion for up to one whole year (covering monthly fees like food and pet insurance) |
| £540 | The ability to care for more than one pet companion, so they don't have to part with any of their beloved animals |
| £1,000 | A Community Space where they are reconnected to society by covering rent of one of our spaces for a month |
You can find more information about Give a Dog a Bone over on their website here.
If you haven't already, sign up to support them here and raise a free donation for them every time you shop.