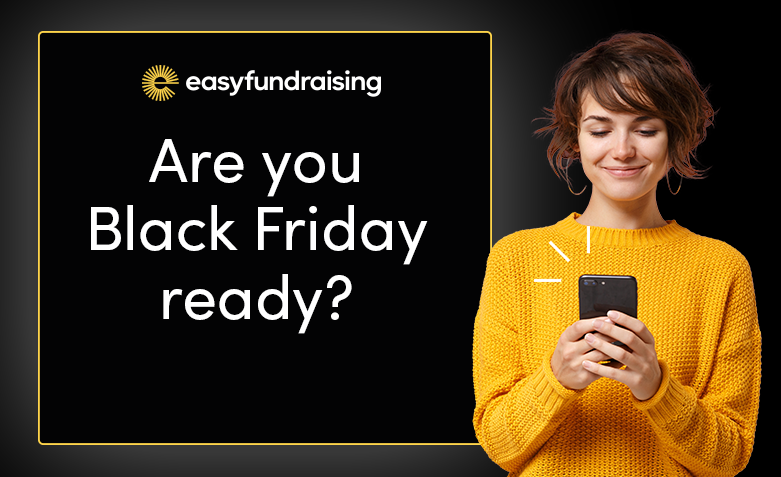 We're rapidly approaching the biggest and busiest sale of the year – Black Friday. And, just like the big brands, your cause or charity can cash in thanks to the huge uplift in online shopping that will start up to a week before Friday, 25th November.
This year, Black Friday promises to be as big as ever, and the key to success is in planning. But how can you get your cause or charity Black Friday ready? Here are five quick tips that you can start putting into place to make sure you don't miss out when your supporters are shopping online.
Remind people that their cause is on easyfundraising
Make sure you tap into this on the biggest online shopping day of the year by reminding people that your cause or charity is on the UK's biggest charity shopping fundraising site, easyfundraising – as well as the impact their donations will make.
It's important, especially in the current climate, to remind your supporters that you're not encouraging them to spend more than what they have budgeted. But, when they do shop online, to think about doing it through the easyfundraising website or app.
All you need to do is log into your easyfundraising account and click on 'Promote my Cause'. Here, you will find marketing materials such as downloadable images, flyers, and text that you can copy and paste, to remind your supporters to use easyfundraising when they shop this Black Friday!
Encourage supporters to download the Donation Reminder
Giving to charity is effortless with easyfundraising (the clue's in the name!). All your supporters need to do is start their online shopping first at easyfundraising, then shop as normal.
However, sometimes people need a gentle nudge. Luckily, we've sorted that. Our Donation Reminder tool prompts users to use easyfundraising when they're searching online. Once downloaded, it simply pops up when a brand is offering a donation.
It's available for computers or desktops (the easiest way to collect donations) as well as on iOS – so you can get your donation in one click, whether shoppers are using their desktop, laptop, iPad, or iPhone!
Look out for giveaways
Keep your eyes peeled for competitions and promotions to get the most out of Black Friday! Up until 13th November, we're giving away £20,000 in Spin to Win, where your cause or charity can win up to a £50 donation every day.
And, during our Daily Give Back – which runs from 14th – 27th November – your supporters get the chance to win the cost of their basket back and the same amount is donated to their chosen cause when shopping with participating retailers.
For example, if someone spends £100 at a supermarket and they're chosen as the winner, they will then receive their £100 back, and £100 will be given to their chosen cause – which could be yours!
Look out for increased retailer donations
Christmas is a time for giving, so in the run-up to the festivities, look out for retailer wins. Many retailers will be increasing their donations as part of Black Friday and beyond, which could be double or even triple their usual donation amount! So, your cause can earn substantially more on the same purchases.
Say thank you!
It's a simple thing to do but makes such a huge difference. If you thank people for shopping, they will see that what they're doing is being recognised and this makes them more likely to continue. You can do this easily via the easyfundraising app. Go into 'Activity' and start creating your message to your supporters.
As we mentioned at the start of this blog, Black Friday presents a HUGE opportunity, and the key to success and making a big difference to your cause or charity is all in the planning. If you can make some time to put some of these simple steps into place (the sooner, the better), you won't regret it!