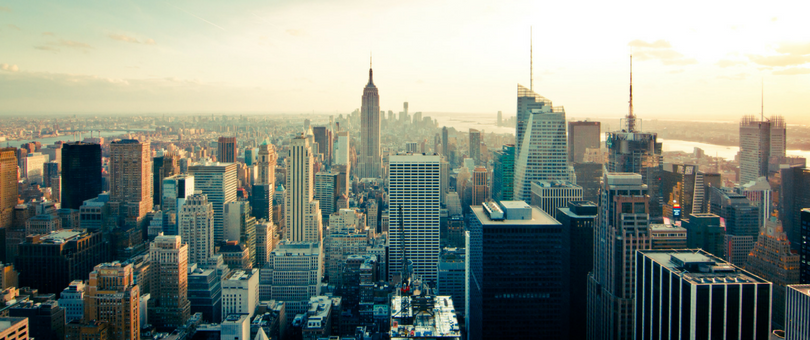 Sometimes all it takes is a weekend away to feel like you've had time away from the stresses of everyday life. A city break is perfect – a change of environment with plenty to discover will make you feel a million miles from home. Whether you fancy strolling round Paris with your loved one or a weekend of shopping and sightseeing in New York, a city of sights is the perfect destination for your mini-break.
It can be pretty overwhelming booking a city break as you want to get the most out of the weekend and it's not like a package holiday where everything is booked in one go!
There's a lot to consider when booking a weekend away but with easyfundraising it couldn't be simpler and you'll be raising free donations for your cause every time you make a travel purchase for your weekend away! It'll make your mini getaway all the sweeter. So, first things first. How will you get there?
Transportation
If you're off on a European city adventure, the quickest way to get to your destination is by flying so you can make the most of your few days away. Airlines do affordable flights from the UK to Europe if you book in advance. You'll raise free donations when you book your flight to your European getaway with Flybe.com, Monarch Flights, KLM, Air France, Finnair and TAP Portugal. If you're heading a little further for your city break, such as Dubai or New York, look to see what Emirates and British Airways has to offer.
You'll of course need to get to and from the airport. Did you know you can also book airport car parking via easyfundraising? Retailers such as Heathrow Airport Parking and Airparks Airport Parking offer free donations too!
If you're staying closer to home and just hopping on a train to a city in the UK, you can pre-book your tickets via trainline.com and Virgin Trains and collect free donations.
Accommodation in the city
So you've sorted your transportation and collected lots of free donations in the process. Now for a place to stay in the city and raise even more funds!
You're bound to be spending time exploring the cities sights so you'll need a comfortable place to rest your head at the end of the day. From self-catering apartments in the middle of the action through to five star city centre hotels, you'll find a vast variety of places to stay that will suit all of your requirements. Take a look at booking.com, laterooms.com, Expedia if you want a browse of what's on offer. If you have your heart set on a hotel, go straight to hotels.com, InterContinental Hotels Group and Hilton, plus many more.
Currency
If you're going abroad you will need to order currency before you head off so you don't have to worry about the stress of sorting it at the airport! Discover the best rates with our Foreign Exchange retailers, including Travelex and Post Office Travel Money.
Travel Insurance
It's so important to get travel insurance for your holiday, even if it's just a long weekend away! Just in case your luggage gets lost, an accident occurs, or you have belongings stolen, you need to know you'll be covered if an event like this unfortunately occurred. Take a look at the best rates from our retailers including M & S Travel Insurance, Just Travel Cover and John Lewis Travel Insurance. You'll be collecting free donations for your cause as well as knowing you're in safe hands!
Fashion and Beauty
You're going to want to look the part on your city break! Whether you'll be striding down the stylish streets of Milan or walking miles around Amsterdam – you're going to need appropriate attire. Have a browse of our fashion retailers, including John Lewis, Marks and Spencer, Next and Clarks, and raise even more funds for your cause just by buying a holiday wardrobe! Plus, pick up travel sized beauty products along with deodorants and toothpaste from boots.com so you don't have the hassle of shopping when you get there!
Find out more about how you can make a world of difference to your cause by booking your next holiday the easyfundraising way.
Find out more about the latest Travel offers.