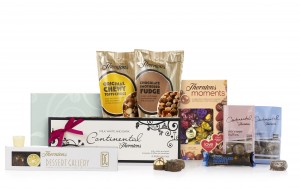 Valentine's Day is just around the corner and love is in the air around here. Even our tech team are feeling romantic with Chris due to get married soon and Phil C having popped the question just last month (she said yes!)
And we know what a passionate lot easyfundraisers are too – you show it every time you choose to make a difference and support your cause by shopping and searching with us.
So, in the spirit of all things love, we thought we'd give you the opportunity to tell us why you love your cause and win something delicious too.
We've got a gorgeous 'I love Chocolate'  hamper to give away from Thorntons and all you have to do to be in with a chance of winning it is complete the following sentence in no more than 15 words:
"I love my cause because….."
Don't forget to tell us which cause you support (don't worry, we won't count the name as part of the 15 words – some cause names are very long!)
You've got until Valentine's Day itself to enter and we'll announce the winner here on the blog. To make sure you find out who wins, enter your email address in the 'subscribe' box above and you'll receive our blog posts straight to your inbox.
Don't forget to have a look at our Valentine page too – lots of voucher codes and special offers as well as donations for your cause.
Good luck!