We asked you why you love your cause and you answered in your droves – there's a lot of love out there which is fantastic!
We chose Catherine Smith as our winner. Catherine supports The Harley Stapes Cancer Trust (Harleys Holiday Homes), a charity set up in memory of young Harley Staples who was diagnosed with B cell Acute Lymphoblastic Leukaemia Birkitt Type.
The charity provides holidays, day respite, treats, art and craft materials and entertainment for children with cancer.
Catherine says she loves this cause because:
"Happy Harley's Holiday Homes gives, relieves, refreshes and boosts when all else is difficult"
We thought this summed up their work perfectly.
Catherine is thrilled to have won but most importantly thrilled at the chance to tell everyone about her amazing cause.
"I support Harley's charity as it really is a wonderful thing.  While Harley was poorly the family did a lot of fundraising to give Harley the chance to do a few cool things, things that other people might cram into their longer lifetimes.
By suporting this cause we can do something positive to ease and improve the quality of life for other children and their families that are going through similar experiences."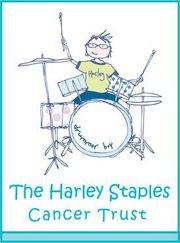 Harley's mum Katherine said, "Well done to Catherine! We are very grateful to her for her comments.
"Our son Harley was an inspiration to us all while he bravely battled to fight cancer. He always made us so proud to be his parents. 
To witness children with cancer, how they keep fighting whilst having so many harsh treatments, their strength and above all their laughter is completely life changing.
Children have done nothing in their short lives to warrant having cancer, they have their whole lives ahead of them, they have so much to offer and they are all so very special.
Anything that we can do to help put a smile on their faces is so worthwhile."
You can support this great cause when you shop and search online with easyfundraising- click here