This competition has now closed. The winner was Sarah Sheppard who supports Chesham Bois Combined School PTA Fund.
Sarah said; "I'd like a fundraising app that enabled parents to sign up to come to a PTA event, buy raffle tickets, pay sponsorship money etc without having their purses on them in the playground. Simply click on their child, enter the number of tickets / amount they owe and they get an invitation to pay via Paypal & their tickets get sent to them automatically. No more excuses about forgotten purses! Oh, and if it could order lovely weather for all our outdoor events via the Met Office app, that would be fab too!!"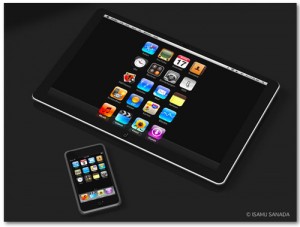 Yes?  Thought so. Just as well our good friends at Viking Direct have given us a fantastic iPad to give away to one lucky easyfundraiser.
The revoluntionary iPad is a brand new way to enjoy the web, email, photos and video.  There are over 200,000 apps available, everything from shopping to games but what we want to know is:
What would your perfect app be?
Maybe you'll suggest an app that would help with your fundraising or perhaps you'd like something to make everyday life easier?
One suggestion from our team is an app that tells you whose turn it is to make the coffee and buy the office biscuits!
It can be as practical or as crazy as you like and the best 'dream app' suggestion submitted by the closing date of Friday 25th February will win the iPad!  And if you enter your email address in the 'subscribe' box, we'll email you with details of other competitions and fundraising news too.
Good luck!