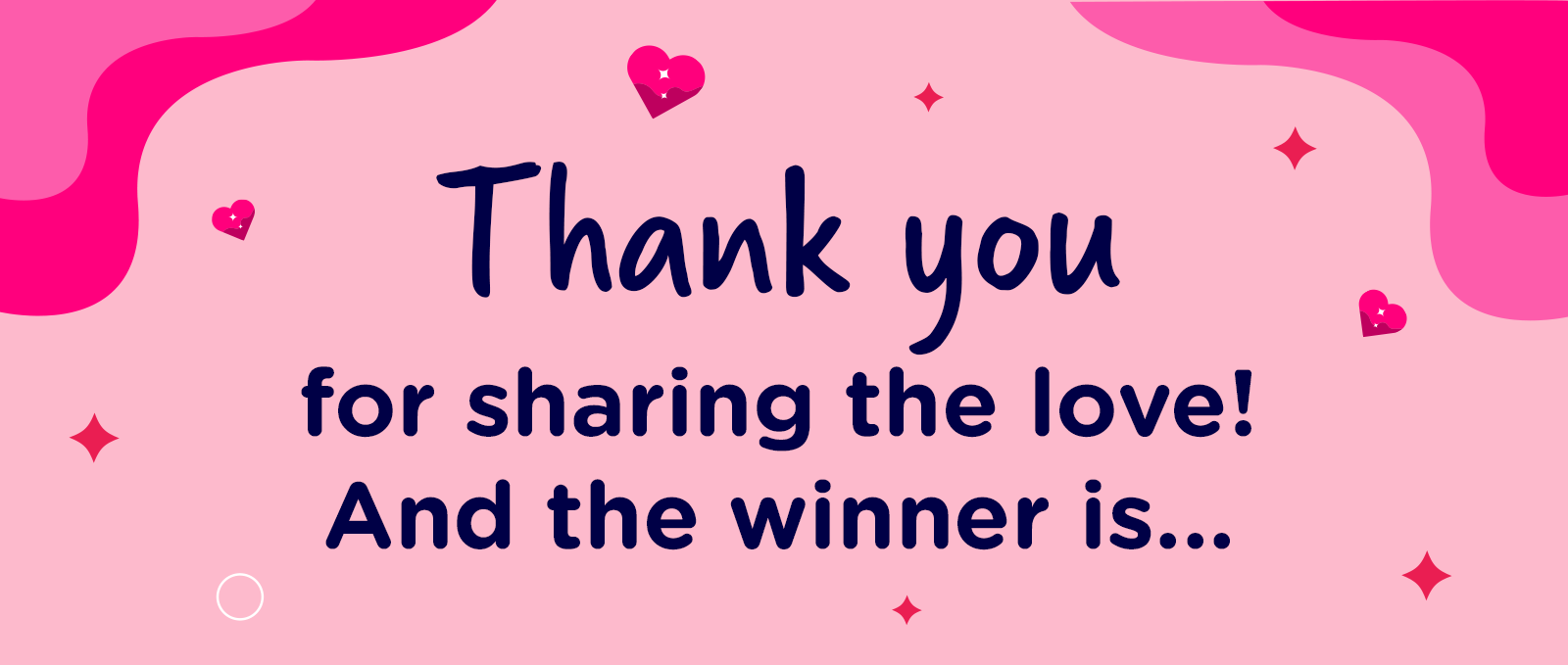 Last month we asked you to nominate a cause that you felt deserved to win a £500 donation in our #SharetheLove competition.
We were overwhelmed by how many of you got in touch to let us know how the pandemic is currently impacting your fundraising efforts for your cause and how this donation would help make such a big difference right now, so thank you to everyone who took the time to nominate a cause.
And the winner of our £500 donation is…
Cornwall Hospice Care
Their income stream has totally dried up since covid hit. They only receive 17% of their funding from the NHS the rest is through charitable donations, which have really dwindled in the last 12 months. The Hospice Care for the terminally ill is second to none. When our daughter was in her last weeks of life, we were lucky enough to have been given a bed for her at their Mount Edgcumbe Hospice. Moving our daughter from the hospital to the Hospice gave our daughter a gentle and dignified end to her life. On her arrival she said it was like a 5 star hotel and she wished she had been there earlier. Families too feel such relief at having the burden of care taken from them. We were able to spend 24 hours a day at the Hospice with our daughter. Making sure that she Was surrounded by love without the pressure of feeling like a burden. The Hospice saved us at a time when we were In great despair and did not know how to get through the most traumatic time of our lives just as it saved our daughter from suffering a painful end in a cold, understaffed and overworked hospital. This is what the Hospice does every day 24/7. Any money raised will ensure that their service can help other families at a time of such distress and trauma.

Linda, Supporter of Cornwall Hospice Care
Here's what Linda had to say after winning £500 for Cornwall Hospice Care:
Speechless is not often a word I use, but when we found out that we had won a £500 donation from easyfundraising having been nominated by one of our lovely supporters, we truly were! For so many this last year has been very tough, noticeably on our charity income and gifts like these make a huge difference to the care and support we provide to those in Cornwall who are terminally ill. Our two Hospices, Mount Edgcumbe Hospice in St Austell and St Julia's in Hayle, work tirelessly to be there for our community, so to have this support is wonderful. Thank you.

Oliver, Head of Fundraising at Cornwall Hospice Care
Oliver, the admin of Cornwall Hospice Care also shared his reaction to winning the £500 donation:
Wow, this is fantastic news! I was so surprised when I opened the email – I entered the competition but never imagined that Cornwall Hospice would be recognised in this way. They totally deserve it! From the moment you walk through the door of their Hospice's, either as a patient or a family member, you know that you are in safe, caring hands and their outreach work in the community is second to none. It costs over £ 5 million each year to keep services going, and only 20% of this is funded by the NHS. The donation will help them to continue to provide vital services to many people living in Cornwall at a time when funding has been so squeezed owing to The pandemic.

Linda, Supporter of Cornwall Hospice Care
It was very difficult to pick just ONE winner from all our worthy cause nominations, but we're thrilled to confirm our 3 runners-up below:
Our 3 runners-up
1st Whittingham BP Scout Group
Children's mental health has been severely affected by the COVID-19 pandemic with very limited contact with friends and opportunities for activities outside the home and garden. Family incomes have also been affected, so 1st Whittingham want to be in the position to offer as many outdoor activities as possible after Easter when the relaxing of lockdown allows us to. We would like to do lots of bushcraft and woodland activities with the children and will need additional kit so that they're not sharing it to reduce virus transmission. The kids in the group have done their best to help others during the pandemic by litter picking, and helping the vulnerable by providing activity packs to those stuck at home in partnership with Age UK.

Ninette, Admin of 1st Whittingham BP Scout Group
Arlo's Army
Taken from the Just Giving page set up to raise money for Arlo. Arlo was born 11weeks prematurely at Darent Valley Hospital, Dartford, along with his twin brother. Shortly after birth he was blue lighted to the William Harvey Hospital in Ashford. It was here that he was diagnosed with severe brain trauma and his prognosis did not sound good. Since then Arlo has been given a diagnosis of 4 limb cerebral palsy (which means he has a lack of control in his arms, legs and torso, preventing him from meeting milestones that most take for granted) but despite this has continued to progress and astonish all that meet him, he is a determined, courageous, motivated 3 year old who given the right tools and treatment will reach his full potential, however that may look. What the Donation will be used for: (taken from Just Giving page) Arlo has been incredibly lucky to be offered a once in a lifetime, three week intensive, course at the NAPA centre in Boston, USA. This trip is going to cost around £18,000 and although we are funding the majority ourselves, as a family, we are hoping to raise some funds to go towards these costs, every little counts so we thank you at what we know is a difficult time for everyone. Personal Note Arlo's amazing Mum, Laura, is an amazing mother to Arlo, his twin brother Jenson and their new addition baby Oscar. Her and her husband Ross do everything they can to give Arlo the best chance possible to reach his full potential, whatever that will be. Ross (Arlo's father) is doing a charity run to try and raise funds towards the costs of this amazing oppurtunity for Arlo. The current situation of Covid has meant that the all of Arlo's NHS physio and therapies have been postponed therefore the cost of his private sessions has been a big hit on the family. I would love for this wonderful family and especially for amazing Arlo to be given a helping hand toward raising the costs for this once in a lifetime opportunity. Thankyou so much for your consideration.

Eleasha, supporter of Arlo's Army
Aching Arms
It would mean so much to me if this amazing charity, Aching Arms, won the £500 donation. This cause means so much to me personally as my Husband & I have now lost 4 of our precious babies. Our last loss was when I had to deliver our baby girl, Cassidy, in the early stages of my 2nd trimester. This was due to an incredibly rare fetal anomaly whereby her brain was protruding out of her skull & the consultant told us, 'this is not compatible with life'. After almost 24 hours of mental and physical pain, including 2 rounds of medical doses to induce the termination we never wanted, I delivered our tiny girl and I was able to tell her how much I loved her and how sorry I was that this had happened. When they took her away, the midwife gave me a Teddy bear donated by the wonderful Aching Arms charity, something to hold, cherish and love. Just like we would have done with all of our babies. I can't tell you how much it meant for me to be able to hold something tiny after that awful night. We named our Teddy after our girl, and Cassidy comforts me so much in times of grief. Otherwise, she sits on our bedside table and we feel we have our little guardian angel watching over us whilst we sleep. I suffer with pretty severe depression as a result of what we have experienced over the last couple of years. We often struggle and try to search for any meaning behind our losses. I know there are thousands of women & men who suffer this sort of trauma around the world on a daily basis, almost silently due to the nature of our society, but I feel in in being able to raise money for this amazing charity that helped me on one of the worst days of my life, it would help bring the meaning we are so desperately searching for. More importantly, it would go a long way towards helping the charity ensure they can continue helping women across the UK, in their times of utter devastation and despair, by giving them something tiny and beautiful to hold on to. Thanks a lot for reading, I'm sure no matter what, this money will go towards a fantastic cause and I think your website is wonderful!

Nicolle, supporter of Aching Arms
Thank you again to everyone who entered!
Remember the best way you can help support your cause, especially during this pandemic where face-to-face fundraising is impossible, is to use easyfundraising every time you shop online. You can also encourage others to do this too by using your ready-made fundraising tools.