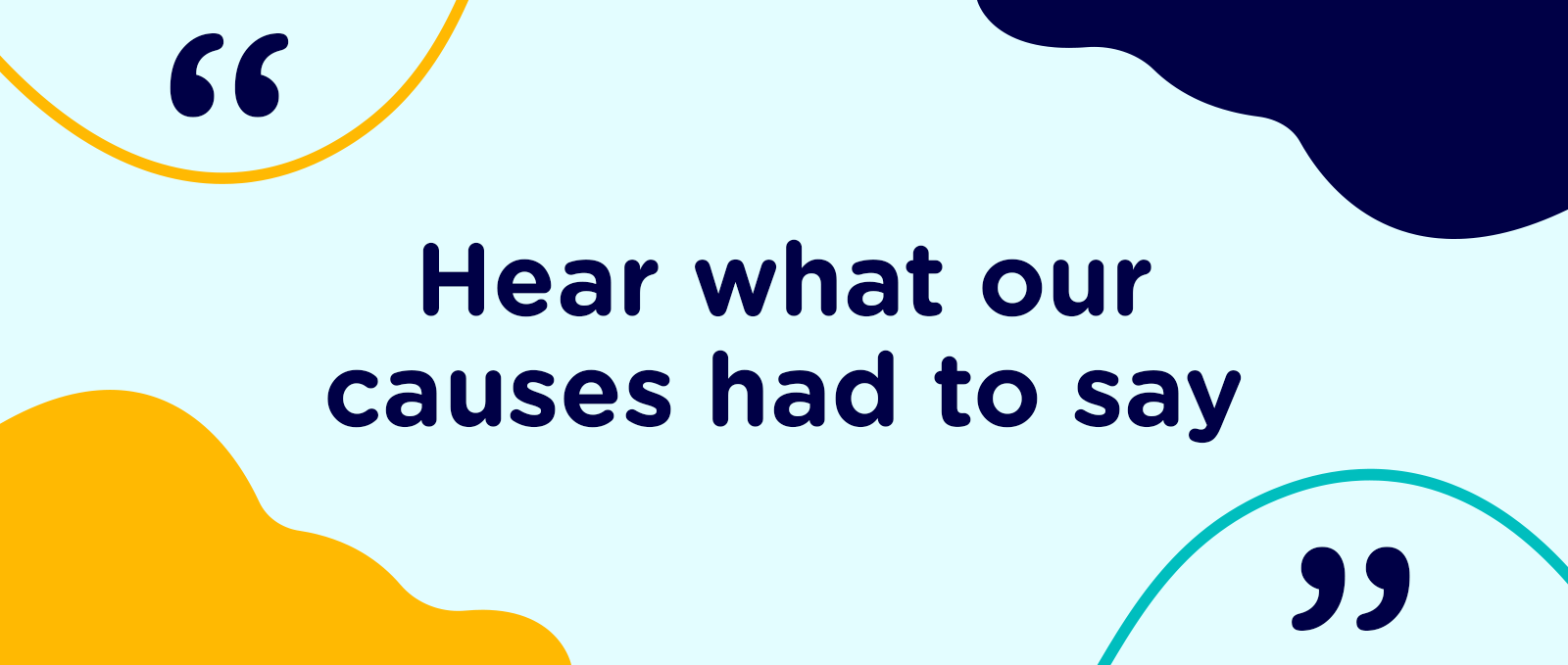 In the last 12 months charities and causes have been hit hard during the pandemic and we just wanted to say a great big THANK YOU to EVERYONE for continuing to shop online throughout an incredibly tough year.
Here's what our causes had to say – they are incredibly thankful for all the FREE donations that have been raised so far using easyfundraising.
We at St Mary's have found easyfundraising to be an amazing money maker. So many people are shopping online now. Using easyfundraising they donate to us at no extra cost to themselves. Win win!

Gilly, Admin of St Mary's Church Chiddingfold
"We joined easyfundraising in 2020 just as the Covid-19 pandemic struck, with funding at the lowest it has ever been for our charity. Thankfully our lovely supporters who joined easyfundraising have helped us bridge that gap. Its like magic! They simply shop and we get money for the privilege, it couldn't be simpler. Hopefully as the years progress more people will join in and the funds will be a wonderful extra income for our rescue, its surprising pennies really do make pounds!"

Stuart, Admin of LUOSKO German Shepherd Dog Rescue
Desborough Library and Community Hub only started to use easyfundraising in late 2019 but has raised more than £745 so far through its use. It is easy to use and if you install the Donation Reminder, it really helps not to miss out on donations. The competitions, information and support from the team are all very useful and the money raised helps so much as we have to generate every penny to keep our much loved library open. Thank you easyfundraising.

Paula, Admin of Desborough Library and Community Hub
Using easyfundraising to help raise funds for Scotforth St Paul's Church Roof Appeal has provided us with an income stream without costing any of our supporters anything financially – raising money whilst online shopping which is something we have all done so much of in the last twelve months. It takes minutes to set up and there is no on-going administrative input required other than reminders on our Facebook and other media. Would certainly recommend this to anyone looking to raise funds for their good causes.

Jayne, Admin of Scotforth St Paul's Church Roof Appeal
easyfundraising has been an effortless way to have a steady stream of revenue trickle into Escape2Make's bank account. It's also an equally effortless way for those who shop online to help a good cause and get a fuzzy warm feeling of making a difference to a charity that makes a difference. Jenny Natusch, Founder, Escape2Make.

Jennifer, Admin of Escape2Make
Joining easyfundraising has been a great way to raise much needed extra funds for Access to Business. We encouraged all of our staff, volunteers, Board members and friends and relatives to join up and do their shopping through easyfundraising. It is ideal as it does not cost any of us anything to join or when we shop but we are all thrilled that a percentage of our shopping is donated back to Access to Business. We have done all of our online shopping, booked events and holidays (when allowed!) through the link and the money raised at our charity has benefited so many of the people that we support. Access to Business would recommend easyfundraising as a great way to boost charity fundraising.

Jess, Admin of Access 2 Business
easyfundraising is by far the best way we have found to raise funds for our cause. It was very easy to set up and the fact that is costs our supporters nothing is brilliant, especially during the current times. We are encouraging all our supporters to use the Donation Reminder so we do not miss out on any available donations. Thank you for such an amazing site!

Pam, Admin of Friends Of Dunham Park Scout Camp
As an international student raising funding for my fieldwork research I found it very beneficial that easyfundraising can be used even by my friends from abroad in order to help me reach my goal.

Selma, Admin of Funds4Uni – Selma Benyovszky – 2020
I really believe that easyfundraising is the best fundraising initiative ever! Your everyday online shopping becomes a free donation for your chosen charity. I volunteer for Richmond Good Neighbours, a charitable organisation providing essential support services to the elderly, the disabled and the housebound of Richmond, and simply through my online shopping activities, I have raised over £300 via easyfundraising. The initiative is supported by such a wide range of retailers that virtually everything you buy online is covered so it really does not take long for your donations to build up. What's more it is so simple and so easy to use…everyone should be doing it!

Anne, Admin of Richmond Good Neighbours
Thank you for everyone who sent in their feedback. We love to hear how easyfundraising has helped causes through these uncertain times.
Remember the best way you can help support your cause, especially during this pandemic where face-to-face fundraising is impossible, is to use easyfundraising every time you shop online. You can also encourage others to do this too by using your ready-made fundraising tools.
If you're not already supporting a cause you can sign up here. You can raise FREE donations for your chosen cause when you shop online with over 6,000 retailers. Every donation counts!