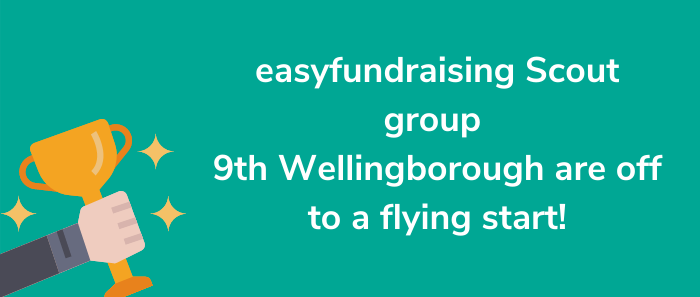 9th Wellingborough Scout Group are a well-established group in Northamptonshire, supporting young people from the ages of 5yrs – 18yrs in the Beavers, Cubs, Scouts & Explorers.
They have raised £197 in just 4 months of using easyfundraising, providing a welcome boost to their finances during a difficult time. Group Scout Leader Peter explains how they've made it work for them:
How has the coronavirus crisis affected funding for your Scout group?
We held our last face-to-face meetings on 18th March not knowing when we would be able to meet again. As the months passed, we were forced to cancel all of our planned activities, including our annual camps which are always the highlight of our year.
Our members pay £30 per term (£90 per annum) and in normal times this would generate over £6,000 per annum. Not having been able to hold any form of meetings for over twelve months, we have received just over £800 from parents in the form of donations to keep us afloat. It was evident that we could not sustain this and needed to take urgent action.
Why did you register with easyfundraising?
As we couldn't hold any form of activities, we needed to find some way of being able to raise funds but we were very aware that parents/carers were, in many cases, struggling financially themselves with loss of employment/furlough etc.
I came across the easyfundraising website and was immediately struck at how simple this was – with increased numbers of people having to shop online, it seemed logical to sign up!
Initially I thought surely there must be a catch! But I read through a number of reviews of people/organisations using it – many of them Scout Groups – and found it really is easy and does exactly 'what it says on the tin'.
You've raised almost £200 in just 4 months – how have you done this?
We drew up a simple letter to all of our parents/carers using the guide provided by easyfundraising and encouraged them to sign up. Initially the take up was slow but this is now increasing steadily. We keep in regular touch with them about easyfundraising via email newsletters.
We are planning to develop our fundraising with easyfundraising further and are looking to make better use of social media and appoint one of our parents/carers to manage the publicity of our easyfundraising page. The potential to raise significant amounts is very realistic!
Would you recommend easyfundraising to other groups?
I would not hesitate to highly recommend easyfundraising – it is simple to set up, hassle free to use and leaves us to concentrate on other things. As the restrictions ease and, hopefully, are removed completely, we will continue to use easyfundraising as an important part of our fundraising.