Continuing our focus on young fundraisers for Student Volunteering Week, here are Zoe and Sam's stories:
Zoe – dog loving volunteer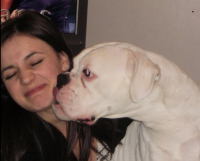 "I'm Zoe Bridson, I'm 17 years old and a student at Carmel college, St Helens.
"My Wednesdays and some weekend days are spent at Dogs Trust Merseyside, walking the dogs. Me and my family also foster boxer dogs with Boxer Dog Rescue Northern England.
This means keeping the rescue dogs in our house until a potential adopter is found for them. We have fostered dogs ranging from 13 months to 9 years old.  We've had to deal with ones that are scared of men, have terrible lead manners, jump on people, have seperation anxiety and destroyed a lot of furniture, have food aggression… the list goes on. But we wouldn't change it at all :)"
Sam – making a difference
"My name is Sam Allen, I am 15 years old.  I've belonged to the Scouting movement since I was 6 and now get the chance to give something back.
"Every Thursday I help out at my local Cub pack and really think I have as much fun as they do. I get to organise lots of games and join in all their activities, including camp.  Through Scouts I also go 'crewing', which is helping out at a Scout activity centre. Here I get to help younger children with things like climbing and caving (and get to clean the loos!)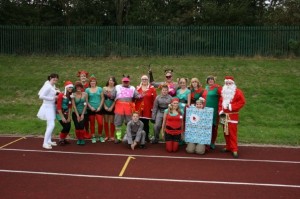 "On a Sunday morning I help in the Rugby Club kitchen, making teas and coffees. We have about 80 children registered at the club so it gets pretty busy. I also go along to parties to help – Halloween and Christmas parties are great fun and
I am usually an Elf at Christmas!
"Relay For Life
is a 24hour team walk to raise money for
Cancer Research
. Over the last three years our team has raised around £5000. My Grandad died from Cancer last month so this year
we plan to do even more
.
"Youth Voice is a panel of local children who work together with adults from our town council, we try to work on local projects to improve our area.  For instance one plan at the moment is to paint an underpass to make it nicer to walk through.
"I enjoy all the things I help with and have learnt valuable skills while doing them, I get to spend time with other people doing similar things and think I get opportunities to do things I might not otherwise.  I don't plan to stop any time soon :)"