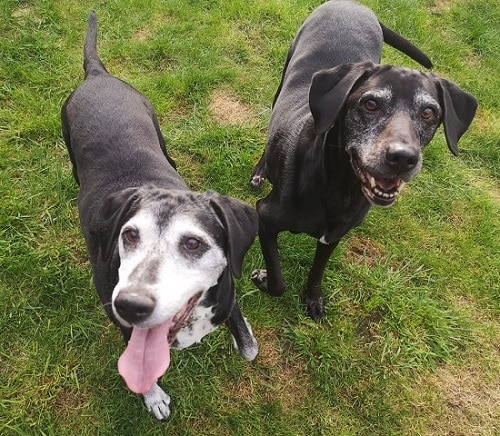 A truly heart-warming charity, Oldies Club is a UK dog rescue for older dogs, aged 7 and over, that have found themselves homeless through no fault of their own. Dedicated to placing the dogs into new, loving homes, Oldies Club also looks after those that cannot be rehomed, covering all costs, including veterinary fees, for life. 
In the spring of 2005, a group of dog-lovers found themselves discussing the plight of elderly dogs and the empathy they felt towards them on an online forum. The chatter turned in the direction of Ted, a 13 year old Collie; blind in one eye and terrified by the noisy environment of the dog shelter he was currently living in, steps were taken to ensure Ted was placed in a calm and caring domestic setting. Once in his foster home, Ted thrived, becoming an inspiration for the group of dog lovers, who went on to establish Oldies Club as a registered charity in 2007.
Today, the charity works tirelessly to be a voice for elderly dogs that need to be part of a loving family in the later stages of their lives. The charity works hard to change the perception people have of older pets; with so many families choosing to welcome brand new puppies into their homes, the oldies get left behind.
The impact of the global pandemic has meant that rehoming activities had to be curtailed during lockdown as the charity were unable to conduct home visits. Dogs already in their care remained in their loving foster homes for longer rather than being adopted. However, this meant the charity has faced paying extended veterinary bills for those dogs, who in normal times would have been adopted.
"Although we weren't able to attend the fundraising events that we normally would in a given year, thankfully our funds did remain stable, due to our amazing supporters and money raised through the likes of easyfundraising, for which we are most grateful since it allows us to cover the cost of not only standard vet bills, but specialist referrals as needed, which can extend into the thousands for an individual dog. We look to maintain this now that lockdown(s) has ended, demand for our help has increased and we are now at capacity for dogs in our care."
Alongside direct rescue and rehoming, a big part of Oldies Club work is promoting the adoption of older dogs in general. A team of dedicated volunteers worked throughout the pandemic to list older dogs from other UK rescues on the Oldies Club website, free of charge, to help raise awareness of all the older dogs out there in need of a loving home.  
Supporters of Oldies Club have already raised over £12,000 through easyfundraising and together we can make this year mean more. Shopping through easyfundraising is more than just a purchase, it means the charity can rescue, rehome and care for even more older dogs in need.