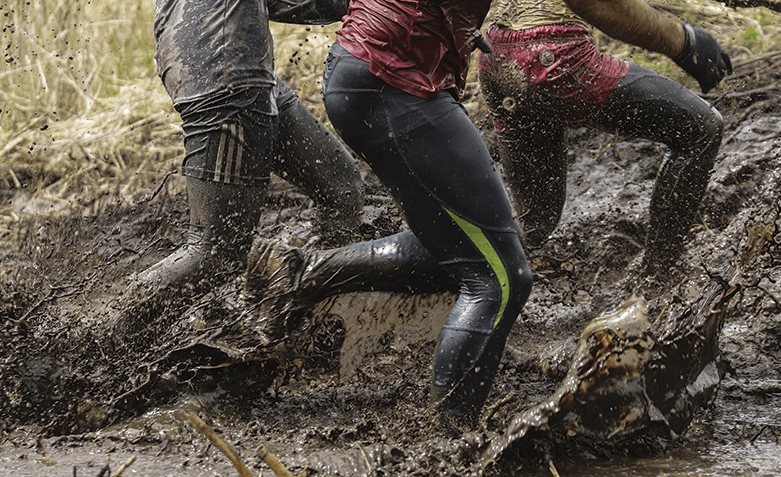 It's not a race. It's a challenge!
Tough Mudder is a challenge like no other. Whether you opt for the 5k, 10k or 15k challenge you'll be up against huge obstacles, barbed wire and electric shocks. Don't forget the ice too! But you'll have your fellow Mudders alongside you pushing you every step of the way and offering a helping hand where needed.
If you're considering entering into Tough Mudder, our Tough Mudder guide has everything you need to know.
What is Tough Mudder
Put simply Tough Mudder is an obstacle course, but it's so much more than that. You might be doing Tough Mudder by yourself or as part of a group – either way completing Tough Mudder is all about teamwork and overcoming some serious obstacles. You'll be pulled up and will be pulling people up along the way! It's also a chance to unplug from the daily grind and accomplish something big.
When you take on Tough Mudder you'll be climbing huge half pipes, scaling the biggest climbing net you've ever seen, dipping into freezing ice and maybe even getting an electric shock. It's a feat of human endurance and strength, and isn't for the feint of heart.
There are three different Tough Mudder races you can enter, with events up and down the country. The three distances include:
5K and 13 obstacles – including the likes of Kiss of Mud, Everest and Mudderhorn.
10K and 20 obstacles – including Arctic Enema, Everest, Mudderhorn and Electroshock Therapy.
15k and 30 obstacles – this is the original Tough Mudder and features obstacles that will only be found on this course like Funky Monkey, Cage Crawl, and Electric Eel.
Tough Mudder differs from other obstacle courses in the fact it doesn't view itself as a race. There are no times when you do Tough Mudder, it's all about the personal achievement of completing the course. And there is no first and no last place. It's also more of a team challenge compared to other events like Spartan races where it's more every-man-for-themselves.
Benefits of Tough Mudder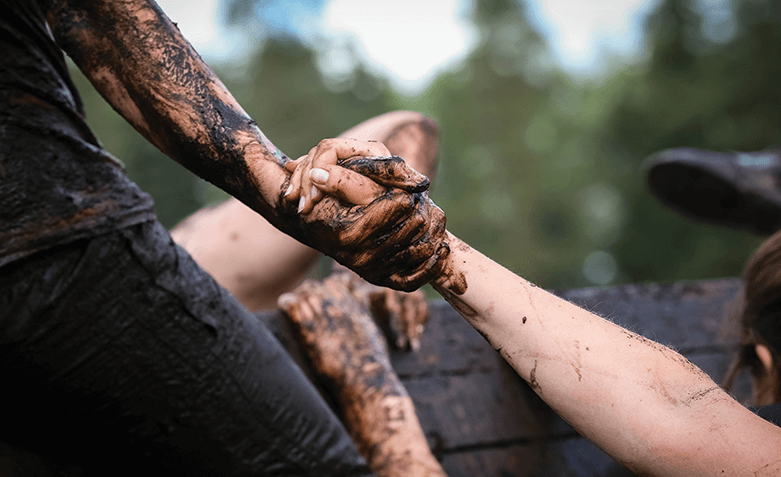 Considering doing Tough Mudder? You can enjoy these benefits if you do.
Physical Benefits of Tough Mudder
Unless you've been in the army or are a secret SAS commando, you're going to have to train to complete Tough Mudder regardless of whether you're doing 5, 10, or 15K. Training for Tough Mudder is all about building strength and endurance. It requires a mix of weights, strength training, cardio and High Intensity Interval Training (HIIT). You'll also need to give it some decent weekly training for around 16 weeks to be ready. And this brings with it some serious health benefits.
For example, strength training will not only set you up for Tough Mudder, but it also helps enhance your quality of life. It can protect your joints, help build stronger bones and lower your risk of heart disease and diabetes. Cardio on the other hand can keep you in shape, improve cardiovascular health, help regulate blood sugar, reduce blood pressure and reduce chronic pain, amongst many other benefits.
Mental Benefits of Tough Mudder
When you're training for Tough Mudder, you'll enjoy all the mental benefits that regular exercise and training bring. We're talking endorphins to boost your mood, enhanced energy levels, better memory and improved confidence. Regular exercise and training have also been found to help you sleep better, which brings with it added health benefits. Stress relief is also a huge benefit of both training and completing the course itself.
And having completed the course and knowing you can push your body to places you never thought possible, well that's great for self-esteem too!
Social Benefits of Tough Mudder
As we've already said, Tough Mudder is all about the team. Whether you enter with a team or find some helpful teammates along the way, you'll build social bonds with those around you.
Setting up a team and doing it together with friends is ideal for your training too. It can help with motivation and brings a social element to your training every week. And when you meet friends along the course, you'll be surprised at the long-lasting bonds you make when you've been to hell and back together.
Charitable Benefits
People love a story to get behind when it comes to fundraising. They want to see you raising money for a meaningful cause that you care about and may have a personal connection to you. But they also like to see people putting themselves out there and pushing themselves hard in the name of charitable fundraising. There's nothing like doing Tough Mudder to show that you're putting yourself through the ringer for your chosen charity.
Gear and Equipment for Tough Mudder
Think you can just throw on your usual gym or running gear and head out for Tough Mudder? Think again. You'll need to bring the following with you:
Trail running trainers – traction is essential for events that require off-road and muddy running. You also want the added protection and drainage offered by these shoes over standard running trainers.
Reusable water bottle – you need to stay hydrated before, during and after the event. You'll find water stations along the route to fill your bottle up too.
Gloves – these can be an essential addition to your kit. They'll keep your fingers working in cold water and can help you clamber over those difficult obstacles. You'll want gloves with palm and finger padding if possible.
Anti-chafe cream – apply it before the event to negate this all too common Tough Mudder injury.
Appropriate clothing – while you might choose to do it in fancy dress, if not you'll want clothes that keep you performing. Opt for leggings, shorts and t-shirts made from tight, moisture-wicking fabrics. You don't want them to hold water or to get snagged on barbed wire. Yes, you read that right, barbed wire.
What to Expect on Race Day
Gearing up for the big day? Here's what you can expect.
Arrival and Registration
When you sign up to the event, you'll receive a pack that details what you need to know in terms of your event type, location and time. It will also detail the time you need to arrive.
When you arrive you'll need to check-in. During registration you will have selected a 1 hour start time window. When you check-in your exact start time during this one hour window will be provided to you. Tough Mudder is staggered like this to ensure a consistent flow of people throughout the course rather than people all running at the same time. You can leave all your belongings at back drop during your run.
You'll find plenty of volunteers on hand to help you during check-in and before the race starts. Remember to chat to the other competitors and bring a spirit of camaraderie – you'll need it out on the course.
Before the Race
Once you're ready to go at your specified time, you'll need to complete an obstacle before you even get to the start line – this is Tough Mudder after all!
Before you get going, you'll join your fellow Mudders in reciting the Tough Mudder pledge. It goes like this:
I understand that Tough Mudder is not a race but a challenge.
I put teamwork and camaraderie before my course time.
I do not whine – kids whine.
I help my fellow Mudders complete the course.
I overcome all fears.
Race Etiquette and Safety Guidelines
The key thing about Tough Mudder is that it isn't a race, it's a challenge. That means other people will be looking to help you with the obstacles. You should also help people out around you too. It's what Tough Mudder is all about. Everyone is just as tired, cold and wet as you are, but you're all in it together.
You're taking on the course, not each other. Teamwork, cooperation and giving a helping hand is what being a Mudder is all about. Remember, no one comes first or last in Tough Mudder.
Safety wise, whilst you're all in it together running together and linking arms is a no-no. If one person falls, you all will. Instead run behind or just to the side of someone and be ready to give them a helping hand if need be. You must also keep yourself hydrated – before, during and after the race. Sunscreen is essential too if the sun's out.
And whilst there are electric shocks along the way, you don't have to throw yourself into this particular challenge. You can bypass this one if you want to.
How to Raise Money for Tough Mudder
If you're pushing yourself through the ringer and putting your body on the line, you may as well do it for a good cause while you're at it.
The first step for raising money for charity with your Tough Mudder challenge is to set a target of how much you want to raise. Consider your different options for raising money – both online and offline – and also look at the size of your network. You'll need to come up with a realistic target for fundraising. Too little and you'll hit it easily. Too big and you may lose motivation if you can't get close to your fundraising target.
Fundraising Through your Personal Network
Start by setting up a fundraising page on a website like JustGiving or GoFundMe. All you need to do is add your story, picture, fundraising target and reason for choosing your particular charity. It's essential to then share the page with your family, friends and colleagues. Yes you can rely on those closest to you to be the first to donate, but you'll also want to reach a wider audience. Social media is ideal for this.
Telling your story and the reasons you've picked a particular charity are essential. You want to create a human connection and get people to feel something. They'll be much more likely to get behind your efforts if they do.
You can also reach out to other people in your wider network. Would the company you work for consider sponsoring you? Do you have friends that run local businesses that would be up for sponsorship? You don't know until you ask the question!
Running Offline Events to Help with Fundraising
What creative ideas can you use to help with your fundraising efforts? A charity bake sale or coffee morning are always good ideas. As is a silent auction, raffle, pub quiz or casino night. You have plenty of options to choose from and you'll know the right one for you and your charity.
Using easyfundraising to Help Raise Money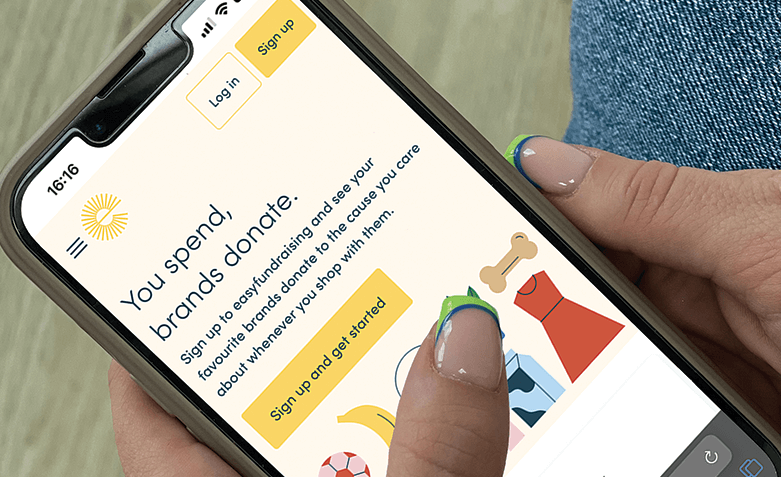 When you start your Tough Mudder training, you'll likely need to stock up on some essentials. For your training and for race day. You'll need decent trail running shoes, a water bottle and some appropriate clothing. And you can even raise money for your charity while buying all this equipment.
With easyfundraising, you simply need to sign up on our website and pick your chosen charity or register your own personal fundraising effort. As we've partnered with thousands of retailers, including several sports clothing and equipment outlets, you'll be able to buy most of your kit through our retailer network. And when you do, they'll donate a percentage of the total sale value to your chosen cause.
Frequently Asked Questions
Are there age requirements for Tough Mudder?
Yes there are age requirements for Tough Mudder. For Tough Mudder 5k, you need to be at least 13 years old, whereas for 10k and 15k the minimum age is 14. Anyone under 18 must also be accompanied by someone over 18.
What should I wear for Tough Mudder?
You'll need to wear trail running shoes for Tough Mudder alongside tight and moisture-wicking clothing like leggings, a running top or t-shirt and shorts. Gloves are also essential. You'll also need suncream if the sun's out.
Reaching New Goals with Tough Mudder
Even signing up for Tough Mudder is a daunting feat in itself. But once you're signed up remember your training. You want to be in the best shape possible with plenty of strength, endurance and agility training. On the day, the focus is on finishing, the team and the camaraderie. And it's not about your time.
Good luck. And remember to sign up to easyfundraising to help with your fundraising efforts along the way.