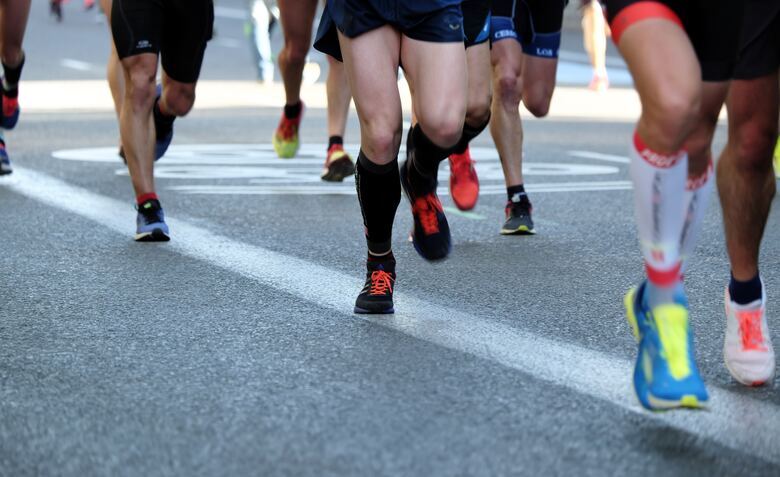 So, you've signed up for a marathon. What now? The key to marathon success lies in the right mindset, the right training and the right gear. Without one of these factors, you'll struggle to hit the heights of your potential.
By kitting yourself out with the right gear you'll look after your body, so you can really put your training into practice on the big day. To make sure you're not let down by inadequate marathon running gear, here's our essential guide of what you need.
Running Shoes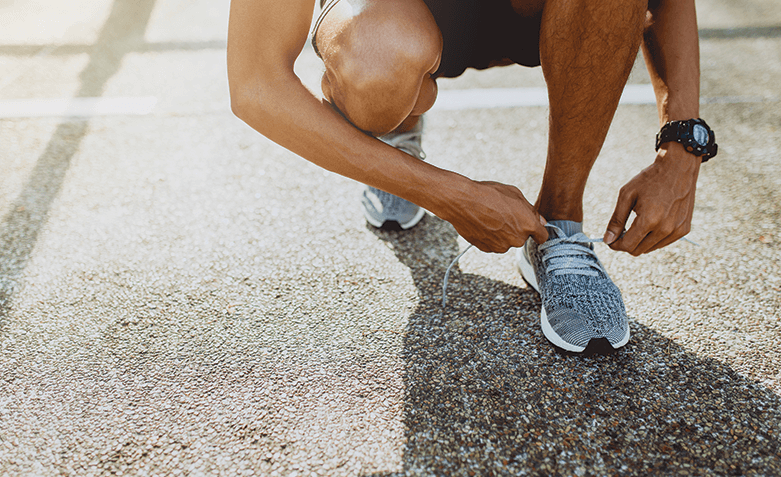 You really need to look after your feet and body, and this all starts with the right running shoes.
The importance of proper shoes for marathon runners
Having the right running shoes creates the foundation for your entire body when you're running a marathon. They can help protect your body from injury and make your runs much more enjoyable. When you're pounding the pavements during your training or during the race itself, cushioning and comfort is key to protect your knees, joints and feet from the hard impact of the road.
Your running shoes must fit you well – you want a thumb's space between your longest toe and the end of your shoe as this will avoid the repetitive motion of your toe hitting the end of your shoe which can lead to runner's toe.
Features to look for in running shoes
You must also pick shoes that suit the terrain of your marathon, whether it's a road marathon or a trail marathon. If it's a road marathon, like the London Marathon, opt for shoes that have plenty of breathability, cushioning and flexibility, and that are both comfy and lightweight.
You should also consider getting two pairs of the same marathon running trainers. One to keep you going through your training (they'll be pretty beaten up and battered by the end) and one for the race day itself. Just remember you'll need to break in your racing trainers for about four weeks before the event. A marathon is not the time for fresh-out-of-the-box running trainers.
Top recommended running shoe brands and models for marathon runners
We recommend:
HOKA Mach 5
Asics Gel-Nimbus Lite 3
Saucony Kinvara 14
Nike Vaporfly 3
Brooks Ghost
New Balance 1080
Nike Air Zoom Pegasus 39
Mizuno Wave Rider 25
Clothing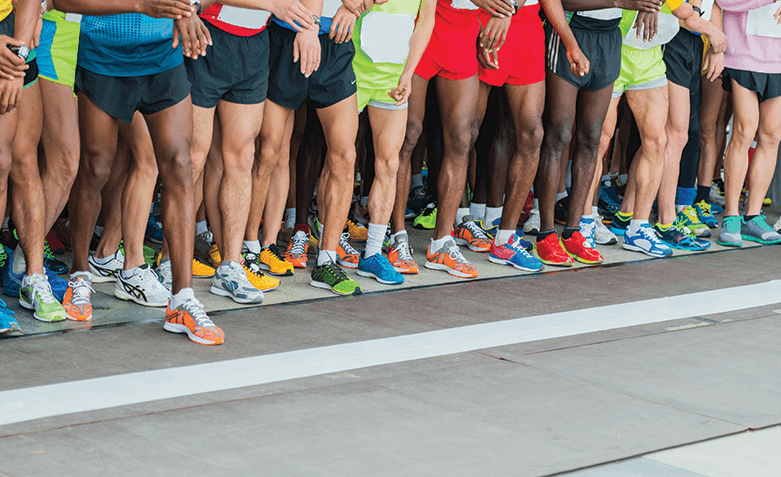 When you're running 26.2 miles, the right clothing is essential. So pick wisely.
The importance of proper clothing for marathon runners
During a marathon, you have plenty of things to think about. Your pace, your energy levels, not hitting the wall etc. The last thing you want to worry about is your clothing. You need clothing that works with your body and lets you push towards your personal best. The wrong clothing can become heavy with sweat, slow you down and chafe when you really could do without it.
Features to look for in marathon clothing
You want to choose proper technical running gear. Features to look for include clothing that is lightweight, with excellent breathability and moisture-wicking capabilities. The latter means that your sweat will be wicked away by the material rather than soaking into it and making it heavier. It's also important to look for running tops and shorts that have no seams or taped seams to avoid chafing.
Your running socks need to be technical running socks to help keep your feet fresh and to avoid blisters. You may also want to consider compression gear whether shorts or socks to help with lactic acid, increase endurance and aid with strength and power. Shorts with plenty of pockets for all your gels and energy chews are great too.
Recommended clothing for marathon runners
Make sure you kit yourself out with:
Moisture-wicking technical running t-shirt (with taped seams)
Moisture-wicking technical running shorts (with pockets and taped seams)
Compression gear – whether socks or shorts
Technical running socks
Hydration and Nutrition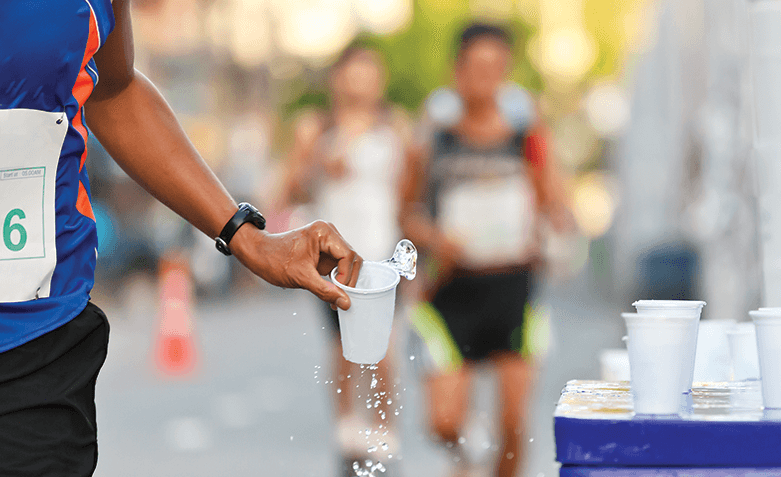 Keeping your body going with the right hydration and nutrition is just as important as what you wear.
The importance of proper hydration and nutrition for marathon runners
Staying hydrated is vital for runners, and especially so when running a marathon. You lose water through sweat when you run, increasing the amount of fluid you need. Not topping up your fluids can potentially lead to dehydration which can cause symptoms including headache, rapid heartbeat and fatigue. It can slow you down and dramatically increase your chances of getting into difficulties during your marathon. This is the case for any runner of any ability. You should try and drink around 750ml of water every hour. Just remember, anything over this could be too much and may result in you being over-hydrated.
You also need to eat during your marathon too. Running is powered by fat and carbohydrates from the food you eat. Put simply, you need food to keep your energy levels up. If you don't get essential nutrients while you run, your muscles can become depleted and your cells can dehydrate.
Recommended hydration gear for marathon running
We recommend:
Hydration packs or vests that store and keep your water cool
Hydration belts where you can store your water bottles
Depending on the event, you can rely on the water stations provided, but this does run the risk of you not being able to get enough water during the race.
Recommended nutrition
You should opt for high GI carbohydrates to fuel you during your marathon. We recommend:
Energy gels
Energy chews
Energy drink powders
Accessories
When you're running a marathon you can treat yourself to some running accessories. They can help too!
Accessories that can help improve marathon performance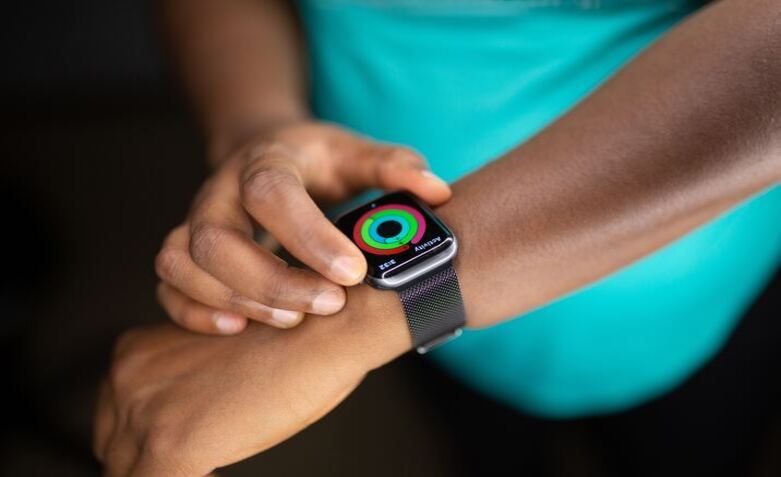 A running watch with GPS is a great companion during your training and on race day. It will help you track your training runs to measure your distance, time, speed and heart rate. It will also provide you with stats and detailed running data to help aid your performance.
You'll also want to consider nip guards to prevent anti-chafing, Compeed to help save your feet from blisters and BodyGlide which cuts down on any potential friction.
Other running accessories to look out for that may not improve your performance, but still look good, include lightweight running sunglasses, running caps and running waistbelts.
Recommended accessories for marathon runners
Running watch with GPS
Compeed
BodyGlide
Nip guards
Lightweight sunglasses
Running cap
Running waistbelt
Creating the Foundation for Successful Marathon Running
You need to give yourself every chance to finish the marathon and push for your best possible time. But without the right gear, whether running trainers, clothing, nutrition or hydration, you'll be setting yourself up for failure. By opting for the recommended gear you can put your training to its best use and push for that PB!
For more marathon tips, read our guides to marathon training and raising money for a marathon.