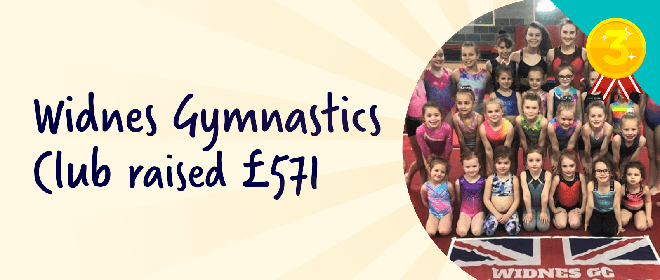 We love hearing stories from our causes and charities about their fundraising success. And the best part is that we get to share them with you; so here's how Widnes Gymnastics Club, along with their supporters, have raised an impressive amount towards their cause.
Widnes Gymnastics Club provides gymnastics at all levels – from ages three to 16 years old. So far, they have raised a total of £571.00 with easyfundraising, and £350.50 within the last year. These donations will go towards new equipment and international competitions.
Tell me a bit about Widnes Gymnastics Club. Describe what you do and why you were set up?

We are a local club offering gymnasts to all. We have recreational members learning basic skills, sportsmanship and commitment, to squad members who train up to 20 hours a week and compete around the world. The children range in age from 3 to 16 years old. Its a place of hard work, fun and extended family.
What specifically are you fundraising for at the moment?

Our fundraising helps buy new equipment to help the gymnasts train but most recently we have been fundraising to help support the squad girls compete in the World Championships in Orlando.
How do you encourage people to sign up and use easyfundraising?

I found that targeting certain times of year has a big impact in getting people to sign up. Leading up to Christmas, we had a big push on our social media; we highlighted that people would be shopping online anyway, so why not help the club at the same time? We were persistent with this message and posted frequently. We did the same with the Boxing Day sales, Easter and prime time for booking holidays.
Have you had any feedback from your supporters who use easyfundraising?

Our supporters love the Donation Reminder. It takes the effort out of thinking about it and ensures they don't miss a donation.
The app is on our phones and the donation reminder is on our laptops, we don't do anything different to what we normally would, but using easyfundraising we turn every click into a fundraising opportunity.
So far you've raised an impressive amount through online shopping with easyfundraising. Can you give me an example of how the donations you raise have been used or what you plan to spend them on and how they make a difference?

The girls have had to compete around the UK, successfully reaching the ever increasing criteria of regionals to nationals to allow them to compete against gymnasts from across the globe at Worlds. Our fundraising helps reduce the financial impact on families of such an amazing opportunity and makes competing at this level more attainable for all. The coaches and girls work hard in the gym to qualify and the parents fundraise hard to make sure we can all get there as one big gym family.

"The club is all about the kids, everything we do is to help and support them. easyfundraising has made it so easy to do that."
For more brilliant fundraising ideas and resources that will help your cause to raise even more donations, head over to the Raise More section of our website.