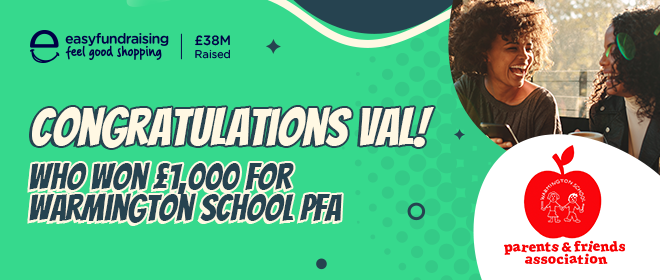 Congratulations to Val, supporter of Warmington School PFA, who has won a £1,000 donation in our 'Shop to Win' competition on our mobile app.
Warmington School PFA's reaction to their win:
It is marvellous to have won this large amount for our cause! It will make such a big difference to the children at school, especially following such a challenging year for fundraising in the community."
How will the donation help your cause?
We plan to use the money straight away to invest in 3 new iPads as our existing ones are really showing their age now and we are working towards replacing them all as soon as we can. iPads are a really valuable learning resource across all subjects and these will be used by all of the children to enhance their lessons and to develop key skills; we're really excited to be able to begin to update them at last.

The school library is also in desperate need of more non-fiction books following a revamp funded by the PFA last year. We hope there will be enough funds left over to provide a small selection of new reference books to support the children in their studies and independent reading. Whilst modern technology is very useful, books are still so important for providing information and inspiration in school. Thanks to this amazing prize from easyfundraising, our pupils will soon benefit from the best of both worlds!"
Their top fundraising tip? Get the app!
Using the easyfundraising app when shopping online is very straightforward. It just takes a moment to do an extra click. It is a simple effective way to raise funds for your cause."
If you haven't already, you can download our FREE app here. It's the easiest way to raise donations when you're shopping on your phone or tablet. Plus, look out for competitions and features exclusively on the app. Download now.