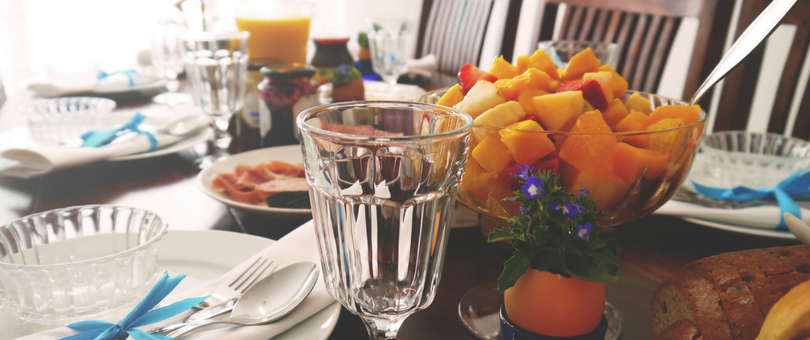 Easter Bank Holiday is a brilliant excuse for us all to indulge in Easter traditions – from chocolate eggs to hot cross buns, there's so much to enjoy together with family and friends. Your supporters will no doubt be shopping online to get their Easter groceries and gifts in time for the weekend – what a great opportunity to give your fundraising an eggstra boost this Easter.
We've come up with ways to remind your supporters to always shop the easyfundraising way and to point them in the direction of retailers who are running some fantastic Bank Holiday deals too. So here's how to make everyone a happy bunny this Easter.
Ways to raise on your Easter lunch
Easter Sunday will see millions of us sit down for a traditional roast dinner with family and friends. Your supports can buy all the ingredients they need for a delicious lunch from our food and drink retailers.
Waitrose (up to £6 donations) are offering 1/3 off Easter roasts, wine and fizz and supporters can receive £100 off their first 5 shops online when you spend £100 or more.
If your supporters shop at Morrisons Grocery they'll collect up to a £3 donation and £5 off when they spend £80 by using the code VOU1748784.
When your supporters buy their leg of lamb and all the trimmings from Sainbury's Groceries they'll raise up to £1.50 and £18 off a £60 first time shop by using the code AFFPGXEAP.
Tesco Groceries are running Easter dinner deals along with 25% off 6 or more bottles of wine or champagne until 24th April.
Spread the word to supporters
Use social media to tell your supporters about these deals and donations from our retailers. Our Easter deals page has the latest and greatest offers, share this page and pick out a few favourites to include in the update. It's a great way to let people know they can collect free donations on the things they're already buying.
Raise more on Easter Eggs and Gifts
Your supporters will be busy ordering Easter eggs and gifts in time for the weekend, so what are you waiting for? Let them know about these deals and the big donations they could raise when they shop via easyfundraising.
For the indulgent shopper, Hotel Chocolat will give them up to 6.00% donation and supporters will receive 10% off their shop when they spend £35 or more by using code 'HC17ST10X35'.
For boxes of chocolates and sweet treats for the kids, Thorntons Direct offers a 4.00% donation. Shoppers can choose from a wide range of delicious Cadbury hampers from Cadbury's Gift Direct and collect up to 5.00% donation along with a £3 discount by quoting the code 'FreePerso180g'.
For those who aren't chocoholics, perhaps a case of wine or beer would be ideal. Majestic Wine will make a 3.5% donation whilst Laithwaites Wine offers up to 3.65% donation.
For children's favourite Easter eggs, Asda Groceries offer up to a £1 donations and have a wide range of eggs at great prices.
Spread the word to supporters
Use our ready-written emails and messages to let your supporters know about all the Easter gifts they can buy online whilst raising big donations for your cause. It's a brilliant way to remind them that they can get all they need to make friends and family feel special by shopping the easyfundraising way.
Take out rather than cook
After a weekend of cooking for the family, your supporters might fancy ordering a take away to avoid cooking again on Bank Holiday Monday!
For pizza lovers, Papa Johns and Domino's Pizza both offer a 1.5% donation whilst Just Eat give a 2.00% donation and selected restaurants offer 20% off.
Spread the word to your supporters
Use these Easter images on social media to remind supporters they can raise. Post in the early afternoon to make sure they don't forget to shop the easyfundraising way when they're ordering take way that night.