Thanks to everyone who sent in their photos – the winning cause is Variations Academy of Dance who sent in loads of fantastic photos and have the most amazing collection of tea cosies!
But the fantastic news is, the fab folk at White Stuff have also decided to award a £20 donation to each cause that entered too!
————————–
easyfundraising retailer White Stuff are celebrating the third National Wear a Tea Cosy on Your Head Day on 27th September and are inviting easyfundraisers to join in the fun for a chance to win a £50 donation!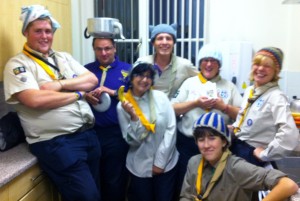 Each year White Stuff encourage staff and customers to pull on a tea cosy to raise money and awareness for 85 different charities which help disadvantaged children and young people in the UK.
You may remember the fun we had with this last year – 49th Northampton Scouts were the winners after wearing their cosies (and a teapot and tea towel!) with style!
Your chance to win a £50 donation
This year it could be you – swallow your pride, shake off that feeling of embarrassment and don your most fetching cosy for a chance to win a £50 donation, whilst at the same time showing your support for this great idea!
You have until Tea Cosy day itself (27th September) to upload your photo below – we can't wait to see you in all you glory!
If you have problems uploading your photo, it might be because it's a bit too large so try making it smaller and trying again!
Good luck you crazy fundraisers!