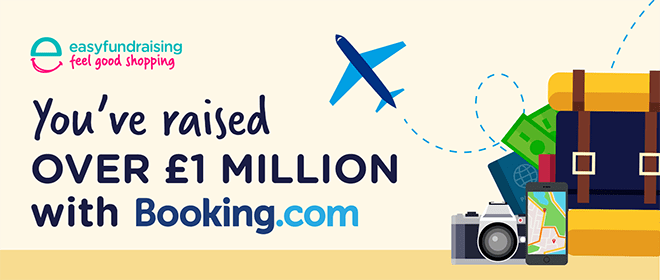 Whether you've been booking beach holidays, city breaks, business trips, or any other getaway, one thing's for sure – you've been raising a lot of donations by using easyfundraising to shop with Booking.com! Altogether, a huge £1,251,755 has now been raised for good causes in this way! Here's how just a few different causes have benefitted.

Cambridge Consultants Charities have raised an astounding £2,227, just by using easyfundraising when they book their company travel and business trips with Booking.com! All donations raised for this cause in 2019 were split between the company's three nominated charities – Cambridge Rape Crisis, Alzheimer's Society and Royal Marsden Cancer Charity. Anything raised from 2020 onwards will be used to match donations raised by employees' personal fundraising efforts for a range of different charities. They noted that the key to their success has been encouraging all supporters to get the Donation Reminder. This makes sure that supporters get a notification as soon as they visit Booking.com and can activate their donation while they're on the Booking.com website, meaning they never forget to raise a donation!
"easyfundraising has made a huge difference to our fundraising. Altogether, we've raised over £5,000 in less than one year! We send emails around the office and use our internal social media platform to sign up new supporters and remind them to raise when they shop online!" – Cambridge Consultants Company Charities

Like Cambridge Consultants Charities, KV Korfball Club have raised a huge amount with Booking.com. So far, they've reached £1,193 from supporters using easyfundraising to book business travel for their companies and employees! This money has been put to good use, buying new kit that benefits the whole club.
"We have spent the donations on new kit for the whole club, including our new junior club. To sign up new supporters, we post our referral link to our social media every week. Then we encourage our supporters to get the App. They're already shopping with a lot of the shops and sites who will donate through easyfundraising and the App helps to remind them to raise!" – KV Korfball Club

Owens School Association have done a great job, with their supporters raising an impressive £747 shopping with Booking.com. They maximise the amount they raise by encouraging new supporters to sign up using their unique referral link, which means we can match the first £5 each supporter raises! They also put an easyfundraising footer at the bottom of all emails sent out by the school and use the tools in the Promote my Cause section of the easyfundraising website to remind people to raise when they shop online!
"Like all schools around the country, we are under financial pressure. These donations really help – they were used to fund audio visual equipment in the new teaching block at Dame Alice Owens School." – Owns School Association

Second Chance Golden Retriever Rescue have raised £741 with Booking.com. These donations have been invaluable, with the cause using them to rescue homeless Golden Retrievers and Golden Retrievers in kill shelters in the Balkans. They recommend sharing the social media messages in the Promote my Cause section of the easyfundraising website to sign up new supporters and encourage people to raise donations!
As you can see, donations raised are put to really good use – and the best part is that they're completely FREE! Hopefully, some of the advice from these successful good causes can help you to raise more for your cause too!
If you're not supporting a cause yet, sign up for FREE now. You'll be able to raise FREE donations every time you use easyfundraising to shop with over 4,000 shops and sites, including Booking.com! Get started at: http://efraising.org/XoMKi5PFhJ
Until 23rd February, you can raise INCREASED DONATIONS for your good cause when you shop with Booking.com and you can also save up to 20% on your booking until 31st March!