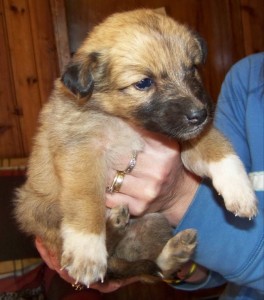 With over 2,300 nominations, the winner of our cause of the month competition for November was Animal Rescue Kos.
It was a very close run thing with Rudozem Street Dog Rescue (RSDR) coming in second with just a handful of votes less.  And in an amazing gesture of generosity, Animal Rescue Kos asked us if they could share the £150 prize with RSDR.
Katie from Animal Rescue Kos emailed us to say, "Both ourselves and RSDR are in exactly the same position, helping animals, just in different countries.
We feel terrrible that they struggle for help also and so would like to split the prize money with them to put  towards the purchase of the property they so desperately need.  Fingers crossed both of us can raise money for our shelters."
RSDR were thrilled and have named their newest rescue pup Kos. Diane from RSDR said "We picked up five tiny pups that were on the grass next to the road near a village out of town. We have named one of the pups Kos in dedication to Animal Rescue Kos for their wonderful generosity."
We think this sums up easyfundraisers perfectly – trying to make a difference in any way they can and we are really proud to work with so many amazing causes like Animal Rescue Kos and RSDR.
If you would like to help either of these causes raise money, simply by shopping online, click on the links below:
Raise funds for Animal Rescue Kos