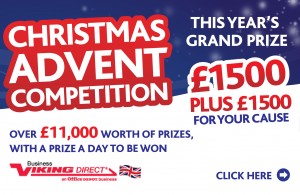 Well our Advent Calendar competition is now over and we thought you might like to see who won what. Thanks to everyone who took part.
Days 1 – 5
On Day 1 Sarah Dunn, supporting First Steps in Dorchester, won a PS3 from Pixmania. Day 2's winner was Gina Dadswell Clarke who won £300 to spend with Brightminds. Gina, who supports Falkland Primary School, was delighted with her prize and told us, "Just placed my order and its gone through!  Hurrah!  Christmas has been ordered…..!"
On Day 3 Dorothy Clark was the lucky winner of a Logitech Pure-Fi Express Speaker Dock & accessories from Apple. Dorothy supports Hull Childrens Adventure Society, who provides holidays for families from Hull and surrounding areas that due to circumstances would not normally be able to get away.
Day 4 saw Jan Deykin who supports The Queen's School winning £300 to spend with Boots and on Day 5 a very happy Fiona Hempel won a Playstation from QVC.  Fiona, who supports  Bearsden Primary School said, "It was a fabulous surprise to hear I had won today – my son is overjoyed at the thought of an extra Christmas present – and a playstation3 at that!  Thank you very much!"
Days 6 – 11
On Day 6 Maria Gale won a HD TV from Currys. Maria supports Friends of Woolsery School and said, "Thank you so much for the prize – first competition I have ever won – so very exciting for me, and has really me helped to remind me to go to easyfundraising before ordering anything on the internet."
Day 7's prize was a selection of Toys from The Entertainer and was won by Carol Taudien supporting Woodside Primary School in Hamilton. And on Day 8, Danuta Myszor won a selicious Hotel Chocolat hamper. Danuta supports Cancer Research UK.
On Day 9, Sharon Jones who supports Forever Angels UK put her best foot forward and won £300 to spend with Clarks.
Sharon says, "I've entered the easyfundraising Advent Competition for a few years now and can't believe I've won such a fabulous prize!  It's such a great site supporting my favourite charity whilst I shop!  Thank you!"
The Day 10 prize went to Janet Stevens supporting Tobermory Scout Hall who won £300 to spend with House of Fraser. Janet said, "The money that is being raised through easyfundraising is to renovate the hall completely – which includes fitting a disabled ramp and toilet, new roof and windows and installing 'green' insulation to cut down and save on energy along with decorating the interior."
On Day 11 Danyella Fry won a £300 Early Learning Centre spending spree! Danyella supports Fife Rottweiler Rescue.
Days 12 – 17
Dalziel Rugby Club supporter David Marshall was overjoyed to win £300 to spend with Debenhams on Day 12 and said, ""We are all head over heels at our prize, thanks Debenhams and thanks to easyfundraising, Christmas just got better!"
Days 13 and 14 were won by Susan Tapper supporting Phoenix Scout Group and Sandra Winfield supporting Wheldrake Pre School who won £300 to spend with Coopers of Stortford and an iPad from Lebara Mobile respectively. Sandra said, ""It was a fantastic surprise to learn that I had won an iPad on the Advent Calendar Competition.   A very generous prize – thank you so much!"
Day 15 saw Ann Moore supporting Grenoside Home School Association win £300 to spend with Argos and on Day 16 Joanna Gawn won £300 to spend with Kickers. Joanna supports People's Trust for Endangered Species. On Day 17 Kim Thumwood who supports Fogo Nursery won £300 to spend with Mothercare.
Days 18 – 24
Sandra Jones who supports  2nd Chester le Street Brownies won gorgeous artwork by Chris Kettle worth £500 on Day 18. This prize was kindly supplied by Opus Art.
Dixons were the sponsors on Day 19 and lucky Linda Chilton supporting St Luke's Church in Eltham Park won a Sandstrom 40″ Full HD LED backlit TV. Linda said, "easy fundraising is really great for fund raising for our church and has lots of companies involved who give donations. Winning the prize was a great and happy surprise as it always seems to be someone else!! Thank you easyfundraising for being a great website for local organisations to raise funds."
Day 20 saw Barry Mainprize win £200 to spend with Boden. Barry supports East Yorkshire Citizens Advice Bureau.
Day 21's winner was Murray Kohn who supports 'World Scout Jamboree 2011 – Olly Kohn'. Murray won shoes for his whole family, courtesy of Simple Shoes, the ethical shoes store. Murray said, "What a great and easy way to raise funds and signing up to support your favourite cause can also be lucky for you. Kids now busy all choosing a new pair of shoes!"
Evans Cycles kindly offered the prize on Day 22 – a choice of boys or girls bike – and it was won by Nikki Howland supporting Monquhitter Parent, Baby & Toddler Group.
On Day 23 Paul Warman who suppors Perry Barr Retired Greyhound Trust won £250 to spend with Fat Face and on Day 24 Megan O'Brien who is raising funds for her World Challenge in Ecuador 2011 won 12 bottles of Veuve Clicquot from Majestic Wine.
Day 25 – The big one!
And last but no means least, our Christmas Day Grand Prize winner was Jane Osborne who won £1500 and a £1500 donation for her cause, Avon World Scout Jamboree 2011 Sweden. Well done Jane!  This fab prize was sponsored by our friends at Viking Direct.