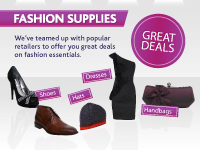 The easyfundraising team are heading 'up town' for our Christmas party this year and it's got the girls in the office in a flap.
We're a casual lot on the whole so this is a welcome opportunity to glam up – but what to wear? According to the fashionistas, this year it's all about retro elegance and ladylike chic (unfortunately we can't promise that we'll manage 'ladylike' all evening…) with designers working the 'grown up' look.
But if like us you love designer style but not the prices, check out our Focus on Fashion page, a round up of the best fashion offers on the online high street. Many retailers are offering increased donations and discounts right now so you can raise more for your cause and save. 
So what's 'on trend' this winter?  Here's a few items that we've got our eye on:
Velvet Underground
Velvet is a key theme for this winter with many designers going for aristocrat look. Debenhams is the place for designer styles at high street prices, like this Principles by Ben de Lisi red velvet maxi-dress (X Factor's Rebecca wore something very similar recently!) which is only £54 (was £80).
Until December 12 you can SAVE up to 30% across all departments at Debenhams , plus FREE UK delivery until Christmas.
The Secretary Look
The secretary look is all about working your curves with understated style. How about this gorgeous red number – it's only £12 at George at Asda (was £20).
Boho Chic
The key theme for the summer has continued into this season but a grown-up twist. Go for strapless flowing numbers like this ethnic maxi-dress from New Look (was £29.99 now only £15!) and team it up with chunky beads and bracelets for a totally on-trend look.  Seasonal reductions at New Look mean you can save up to 50% on a huge range of key looks. And raise a 5% donation for your cause too!
Caped Crusaders
Capes and wraps are everywhere this winter and with the freezing temperatures recently, an extra layer may come in very handy! M&S have a lovely range including this military style wrap.  And right now M&S are offering 30% of selected women's clothes including the Per Una range. Whenever you shop with M&S you raise a 2.5% donation for your cause.
Visit our Focus on Fashion page for a full list of fashion retailers with special offers and increased donations.  And watch out for the Christmas party photos on the blog soon…..