Bedworth Disabled Swimming Club is an independently run swimming club for disabled people and has been running for over 30 years. People of any age and swimming ability and of any disability are welcome and the sessions are free of charge to everyone.
The group has a swimming coach who provides tuition for all levels from beginners right up to competition level and they also provide special equipment for use in the pool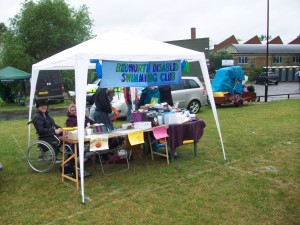 However, the club incurs expenses which is why they registered to raise money with easyfundraising . They also rely on donations and fundraising events to cover costs and recently held a stall at their local carnival in Nuneaton.
Adminstrator Marie Clarke said: "Unfortunately, it was the wettest carnival for 30 years and didn't stop raining all day, so we didn't raise as much money as we had hoped, but we still had a fun day, thanks to a great team effort!"
If you'd like to support Bedworth Disabled Swimming Club when you shop online then you can do it with easyfundraising – click here