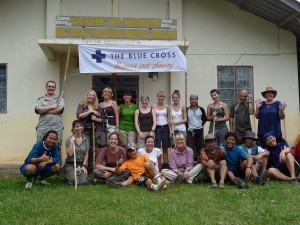 The Blue Cross animal charity finds homes for thousands of unwanted pets every year through its network of animal adoption centres across the UK and its hospitals provide medical care for pets whose owners can't afford private vet treatment.
Blue Cross copywriter Natasha Kleanthous joined a group of brave animal lovers on an adventure of a lifetime to raise money for The Blue Cross…
The Borneo Challenge
"Sliding backside first down rocky hills and wading through ice-cold rivers with bracing currents isn't your usual Wednesday afternoon. But for 14 brave trekkers mundane day-to-day life was a thing of the past as they battled hostile terrain, greedy leeches and even a landslide.
Journey of a lifetime
On a nippy autumn morning a nervous gaggle of adventurers gathered at Heathrow Airport ready for the journey of a lifetime. To the jungle and beyond. Our intrepid group came from all over the UK and varied in age from 18 to 58 but within a day it was like we'd known each other forever.
Before we knew it, it was time to bid adieu to civilisation and head into the murky depths of the jungle where nothing hangs about for too long except the leeches. We battled humidity, steep climbs and narrow paths teetering along the edge of hills with sheer drops on one side – and all of this while carrying a backpack crammed with provisions.
We spent two nights sleeping in local villages and two nights camping in the heart of the jungle, surrounded by hanging lines of smelly socks and t-shirts that never dried overnight, come rain or shine. By the end of the journey we were tired. We were stinky. And we were happy. Our local guides were incredible – they held our hands when times got rough, cooked our meals from scratch every day and only slightly tittered at our inelegant falls. When it was time to say goodbye, after a night of beer and laughter and a morning tour of their village, there were tears on both sides.
Orangutan Conservation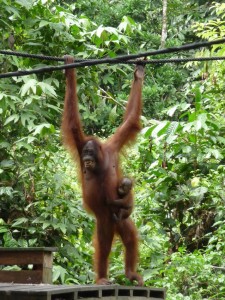 The next stage of our journey took us to an orangutan conservation project, where we helped to monitor the behaviour of these amazing creatures while keeping our fingers crossed for a sighting of one in the wild. Our efforts were rewarded when we saw a flash of orange high up in the trees which the research officers said was a new addition to the area. After being given the honour of naming the visitor, we proudly called him Blue.
We stayed with local families in their homes and went on river cruises, spotting an amazing array of birds and monkeys, planted saplings to help with the reforestation efforts and visited the local school.
After an unforgettable trip to the Sepilok Orangutan Rehabilitation Centre, where we got to see orangutan close up, it was with heavy hearts that we headed home, safe in the memory that this was a trip we'd always cherish.
The Borneo challenge raised more than £12,000 for The Blue Cross."
How to take the challenge
The Blue Cross is offering the chance to take part in three exciting challenges next year – the Zambezi canoe challenge, the Borneo trek challenge and the Peru Horse trek. To find out more about how to take part in one of The Blue Cross active challenges, visit our website: www.bluecross.org.uk or call Heather on 01993 825567.
How you can help
The Blue Cross receives no government funding so rely on the generous support of the public to continue their vital work. You can raise money for them whenever you shop online with easyfundraising. Click here to start shopping!