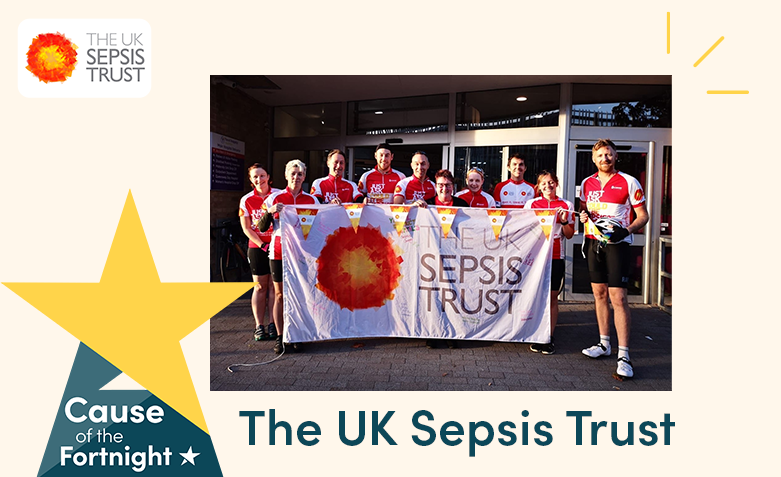 This Cause of the Fortnight, we are also highlighting The UK Sepsis Trust as part of our celebrations!
We spoke to Brian Davies, Fundraising Manager from The UK Sepsis Trust and here is what he said:
Could you tell us a bit about the charity? Why was it set up and what is your mission?
"Ten years ago, Dr Ron Daniels founded the UK Sepsis Trust after witnessing the tragic and preventable death from sepsis of 37-year-old father of two, Jem Abbots. Ron knew that greater awareness amongst the public and health professionals leading to faster diagnosis and treatment, would save many lives.

The charity's mission is to end preventable deaths from sepsis and improve outcomes for sepsis survivors. We know that earlier diagnosis and treatment across the UK could save many thousands of lives each and every year.Sepsis is what happens when our immune system overreacts to an infection. It's a medical emergency that affects 245,000 people in the UK every year, claiming 48,000 lives (120 people every single day) – which is more than breast, bowel and prostate cancer combined. Globally, this 'silent killer' claims 11 million lives a year. We can't stop anyone developing sepsis, but it's, often, treatable if caught quickly.

The tragedy is, that without urgent intervention it can lead to organ failure and death.

We seek to save lives from sepsis, and improve outcomes for survivors. Our mission is to educate healthcare professionals, raise public awareness, provide support for those affected and instigating political change."
What are you fundraising for specifically?
"In our 10th anniversary year we're determined to 'power up in the fight against sepsis' by signing up 10,000 organisations to our Sepsis Savvy awareness initiative, training 10,000 healthcare professionals and supporting 10,000 families affected by Sepsis.

This is ambitious. So we're encouraging donations of a general, unrestricted nature. This allows us the freedom to use funds where and when they are needed most, including, for example, responding to crisis situations such as the COVID Pandemic which we have been able to do over the last couple of years. Occasionally we will ask our supporters to support specific projects, campaigns or areas of work such as 'maternal sepsis'."
How has the cost of living/giving crisis affected your fundraising as an organisation?
"Like many charities we have played an essential part in supporting our specific communities over the COVID-19 crisis. As we emerged from months of restrictions and life started to regain its normal patterns, we looked forward to renewed growth. Whilst we acknowledge it's going to be challenging for many of us going forward we're optimistic that we can build on the goodwill we've generated, to raise funds to grow and diversify our services – thereby helping more people."
How will the donations you're raising this year help? What will they go towards?
"They will go towards improving and expanding our core, mainstream services such as Allowing our Support Team to continue to provide free professional support – extending it to include digital and online options so that many more people can access these essential services. Providing education materials to healthcare professionals ensuring they have access to the latest clinical tools. And continuing to raise awareness nationally thereby helping to avoid preventable deaths."
If you could give one piece of advice about how to promote easyfundraising to supporters what would that be?
"With so many people shopping online, easyfundraising is an ideal way to support a charity. You're doing what you'd do anyway and at the same time helping the UK Sepsis Trust. It's really as simple as that. If you could share the easyfundraising app with family, friends & colleagues more people will be aware of this 'silent killer'. The great thing is that it's easy, doesn't cost anything and could save lives! Seems like a winning formula!"
If you'd like to nominate your cause to be our Cause of the Fortnight, please email your full name, cause name and contact details to accountmanager@easyfundraising.org.uk.