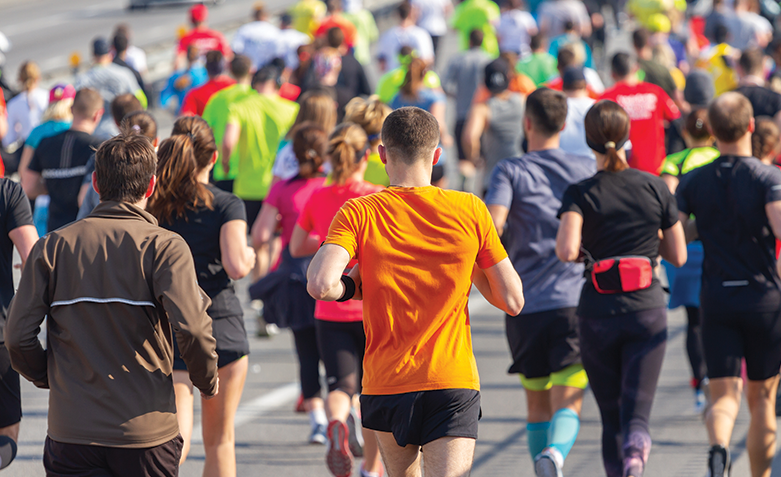 Even if you're not from Newcastle or the North East, there's a good chance you've heard of the Great North Run. With tens of thousands of runners taking up the challenge each year, it's one of the most popular distance races in the UK and arguably the most well-known half marathon event in the world.
Taking place each September starting in the heart of the city and ending at South Shields on the North Sea coast, it's a great opportunity for athletes of all abilities to take on a unique challenge, soak up incredible scenery, a buzzing race day atmosphere, and raise money for charity all at the same time.
Now in its 41st year, the Great North Run is a race made all the more prestigious by its illustrious history and inspiring list of previous race winners. The first race took place in 1981 and the event was the brainchild of former UK Olympic 10,000 metre bronze medallist Brendan Foster. Originally called the Tyneside Run, the idea behind the event was to inspire fitness among amateur runners and the general population of Newcastle, while showcasing the city and surrounding area to the UK and the rest of the world.
While the first race saw 12,000 runners take part, recent years have seen nearly as many as 60,000 lace up their running trainers and take on the challenge. And it's not just a single race anymore. The weekend sees a variety of race events take place, including the Junior Great North Run, Mini Great North Run and the Great North 5K. So, even if you don't think you've got it in your locker to complete a half marathon yet, there are still plenty of opportunities to take part!
Here's everything you need to know about the Great North Run, from starting a successful fundraiser all the way through to race tactics:
Fundraising for the Great North Run
If you're planning to take part in the Great North Run to raise money for a charity or any worthy cause, there are a few things you can do to make sure your fundraising efforts are a big hit:
Register with easyfundraising
When you begin your training, there's a good chance you're not going to have all the essentials. You're going to need lightweight running clothes, a decent pair of trainers that won't pinch by mile four, a water bottle and maybe some gel heel pads for extra comfort during that sprint finish. And you can even receive those all-important donations while buying all your running gear and equipment.
With easyfundraising, all you have to do is sign up on the website, find the charity or cause you're most passionate about, or even register your own cause. We're partnered with thousands of retailers including several sports clothing and equipment outlets. Whenever you shop with one of our retail partners, they'll donate either a fixed amount or a percentage of the total sale value to your cause.
Among our ace retailers, you'll find Sports Direct, Adidas, Under Armour and loads more. Simply head to the easyfundraising website first and begin your online shopping journey to guarantee those donations. Or, if you think you're likely to forget, download our Donation Reminder browser extension. It'll let you know if any retail site you visit will donate to your fundraiser. Easy!
Partnering with a charity
Did you know that as well as allocating a fixed number of places for individual runners, Great North Run also allocates a set number of places for those who want to run for official partnered charities! That means for non-elite runners who want to take on a new challenge and do some good at the same time, there are two ways to get involved.
Running in a charity team is a brilliant opportunity to make new friends and meet like-minded challenge-hungry athletes, as well as benefit from everyone's collective fundraising efforts while making a positive difference to the world.
If you'd like to run with a charity team, just head to the Great North Run website and click on the charity you wish to run with. Most of the charities partnered with the Great North Run will give you a fundraising pack with neat tips to maximise donations, a running vest that you can wear with pride while supporting a fantastic cause, and some much-needed refreshment at the end. Plus, you'll also get some handy running tips from seasoned runners and the added motivation of training as a team. It's a great way to take part.
Fundraising through personal network
We won't lie to you, running a half-marathon takes considerable effort and dedication. But the fundraising side of things is a team effort, and there's no reason to go it alone. Set up a fundraising page on a website like JustGiving, GoFundMe, or even on the Great North Run website. Then once you've added your story, picture, fundraising target and reason for choosing your particular charity, share the page with your family, friends and colleagues. The people closest to you will of course be the first to donate, but in order to reach or even surpass your target, you might need their help sharing your fundraising campaign around to make sure it reaches a wider audience.
When people donate to your cause, it's usually because they identify with your reasons for getting involved and your story that made you want to make a difference. There's a human connection, and your friends and family may even be able to articulate that in a way that you may not. For example, if you're raising money for a charity in memory of a loved one, your bio on your donation page will likely explain your relationship to that person. But your other relatives and friends will have a different relationship to them, opening more opportunities for empathy and connection.
It's a sad truth, but not everyone who sees your fundraising campaign will make a donation. That means it's important that as many people see it as possible to increase the number of donations. Be active on social media and share your fundraising page!
Tips for successful fundraising
Once you and your page are both up and running, you'll need to be active in a number of ways to make sure you smash that fundraising target. Here are three tips we think will really help your cause:
Building a team
Whether it's within work, on a football pitch or planning a fundraising campaign, the best teams have clearly defined roles matched to every team member's skills. It's hard enough training for a half-marathon without having to handle every aspect of your fundraiser too. That's why having a great team around you is essential.
If you don't consider yourself 'good with words', it may be a good idea to bring a friend or family member in that's gifted with the pen. They can write a compelling story on your donation page, write blog posts that update donors on your progress in training and in raising money, and even draft a professional letter that you can send to local businesses for sponsorship. The more ways you have to reach out, the more chance of hitting that target.
If you're running more than one donation page or are generally struggling to keep track, a fundraiser manager will make the process a lot easier. They can guarantee everyone in your team is completely in sync, they can tally up your donations from each page and make decisions on which pages to promote and when, and identify tasks that keep your campaign progressing whenever they arise.
You may also need someone with some social media savvy, but we'll get to that shortly.
Engaging with supporters
As much as you want support for your efforts in running the Great North Run and raising money for charity, your supporters will also want a bit of appreciation. There are so many people raising money for worthy causes, what's to stop them donating to somebody else? Always remember, they've chosen your campaign above every other campaign, so a little 'thank you' goes a long way.
Whether it's an email template thanking donors every time they contribute to your fundraiser, or a quick thank you message when you see a new donation arrive, it's a great way to make your supporters feel appreciated. Plus, it'll make them more receptive to sharing your donation page and engaging with your training updates!
Utilizing social media
Fundraising is one of those scenarios where having social media accounts set up and ready comes in super handy. Instead of having to reach out to people one by one or build a network of people as you go, you've got a network waiting to hear what you have to say. Use Instagram and Facebook to share your campaign with people closest to you, and don't forget to add stories to keep your followers updated and your campaign at the front of their minds.
Want to share your fundraiser with your colleagues and professional network? Use LinkedIn. LinkedIn users love to see positive stories and it's a great platform on which to rally communities behind your cause. If enough people share your post, you may end up connecting with people you don't know that also resonate with your story and feel passionate enough to get involved. After all, fundraising brings people from all walks of life together
Lastly, if you work for a company and they have a platform like Slack or Microsoft Teams, use that too! Many workplaces are extremely supportive of individual fundraising efforts among their employees and while colleagues may donate individually, the company itself may also donate to your cause as a token of support too.
Training for The Great North Run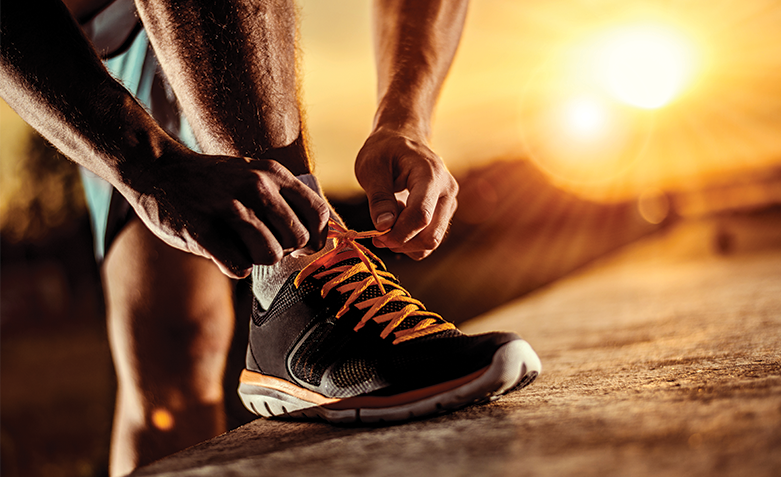 Whether you've run a half-marathon before and are pushing for a new PB, or you're new to distance running and have been inspired to take on the challenge, there's a training plan out there that fits in perfectly with your goals. In fact, you'll find three different 12-week training plans available on the Great North Run website – one for beginners, another for seasoned runners looking to improve, and even one for those looking to switch between walking and running.
But before you lace up your trainers and begin training, you'll need a solid foundation to build on. Here are our top tips:
Building endurance
It's worth remembering when you sign up to race in the Great North Run that a half-marathon is still over 13 miles long. It's physically demanding and you'll need to prepare your body to handle that level of stress and endurance.
Before you start your 'official' training, you should be able to do at least a 5k run and be actively training the muscles involved for strength and endurance. That means a gym routine that's split between strength training and cardiovascular work. If you're completely new to running and don't visit the gym all that often, you'll want to work on your fitness for up to three months before your Great North Run training plan starts. By that point, your muscles will be better conditioned for endurance running and your stamina will significantly increase. That's a great starting point!
Incorporating interval training
Training to run long distance isn't as straight-forward as repeatedly running long distances until it feels 'normal'. In fact, putting this kind of repetitive strain on your muscles and running at the same pace can increase the chance of injury. The best way to make progress is to incorporate different distances and speeds to your routine, and this is where interval training comes in handy.
Interval runs are sprints for a fixed time or distance at 100% effort, broken up by short periods of walking, repeated a set number of times. This could be 300 metres running, followed by 300 metres walking, repeated. Though the walking may seem counterproductive, this method is great for building the muscles in your legs and improving your speed. Changing up your running speed and avoiding repetitive training is the best system to avoid injury while training.
Of course, you will also want to incorporate long-distance runs. After all, this is what's required for the Great North Run. However, we recommend that you stick to this kind of exercise once a week and drop down to a speed you consider comfortable. That'll make it more sustainable, and you'll begin to notice the difference the further into your training plan you go.
Strength training
We know, strength training seems like a strange way to spend your training time when preparing for distance running. However, runners that incorporate strength training into their routine show a massive improvement in speed, and that's because they're developing stronger muscles. Stronger muscles mean more power, and that means more speed.
You won't need to work on every muscle group in your body. Instead, target the muscles you'll be using most during the Great North Run – that's your quadriceps, calves, hamstrings and glutes. Exercises like deadlifts and squats will drastically improve your strength, and you'll feel much more prepared to take on all 13 miles of the race.
Lastly, don't forget to include rest days in your training plan. It may feel unproductive, but you're actually helping your body regenerate energy and rebuild muscle tissue. Without rest, you're not giving your body a chance to recover, and that means injuries are more likely. Remember to look after yourself!
Race Day Logistics
Failing to prepare is preparing to fail, and that goes for the logistics of the race day itself too. It's important that you have everything you may need for the day, know exactly where you're meant to be and at what time, and have a strategy in place to keep hydrated and maintain energy.
Packing a race day bag
You know a decent running pair of trainers are a must, as are drinks and energy snacks for after the finish line, and an airy top and lightweight running shorts to keep you comfortable throughout the race. But what about the other things you may not have thought of? Here's a quick list of those extras that are worth packing in your race day bag:
Compression/waterproof socks – Everyday sports socks are good for the gym, but they're not that ideal for a 13 mile run. Compression socks are a worthwhile purchase as they prevent muscle soreness and increase blood flow to the heart. If blisters are your biggest concern, go for a pair of hydrophobic socks to keep your feet feeling comfy all the way.
Gel heel pads – If you notice in training that your heels are rubbing against the back of your trainers, you'll want to get that sorted before it hampers your race. Gel heel pads are a lifesaver! They prevent the feet from moving around in your shoes, and if you're a heavy footed runner, they also act as a shock absorber.
Chafe balm – Experienced distance runners swear by chafe balm. It may not be necessary for everyone, but it's great for applying to thighs before a race, underneath bra lines and on feet before applying compression socks.
Arriving at the starting line
The Great North Run has staggered start times to ease congestion on the route. You should get your race number around two weeks before the race, and the colour of the number will tell you what group you're in. Orange and white numbers should head to Town Moor where you'll find the information point, water refill stations and toilets (remember to go before the race!). Those with green numbers should follow the route along Claremont Road. You'll have the same amenities as orange and white, and you'll be guided to the assembly point.
Hydration strategy
Dehydration is a distance runner's worst enemy, but drinking too much water won't help either! Running coaches and experienced cross-country runners will tell you the key to staying hydrated during a race is to drink little and often. The amount you should drink depends on the weather during the race, your body size, and the intensity of your run. Luckily, there are hydration points dotted around the entire course, or you can carry a water bottle with you as a reminder to stay hydrated.
Remember, dehydration occurs when the body loses more fluid than it takes in. If you notice you're getting a headache or feeling dizzy, your mouth feels dry or your heart is racing more than it should, these are all signs you're not taking in enough water. If it isn't particularly hot on the day of the race, we recommend you take water from hydration points as and when you feel you need it. But on hotter race days, it's worth picking water up from every station to keep yourself cool and replenish your energy.
If you're not sure exactly how much water you should be drinking, Aqua Pura have put together a hydration calculator that'll tell you how much fluid you should take in each day based on your age, height, weight and activity. Give it a go!
Navigating the race
For the best enjoyment of the race from Newcastle City Centre to the finish line at South Shields, it pays to know where you're going, where to take in the scenery and support from spectators, and how your own supporters can track your journey:
The route
The Great North Run race route begins in the heart of Newcastle on the central motorway. You'll soon be getting into your stride on the A167 where you'll pass Jesmond, Haymarket, Monument and Newcastle Station, before heading downhill where you'll arrive at the Tyne Bridge. This is a great place to soak up the energy from the crowd!
Around mile 2, you'll have crossed the Tyne Bridge over to Gateshead, where you'll be directed onto the A184 towards Heworth. As you near mile 3, you'll make your way past Gateshead International Stadium where you'll continue to the A184 until mile 6. You'll then move onto the A194 for 2 miles, which will bring you towards South Tyneside. The A1300 then follows, where you'll run paste Whiteleas and Centenary Avenue before changing onto the A183 at the 12th mile.
Now comes the highlight of the race. The final mile as you approach South Shields has fantastic views of the sea, and as you approach the finish, you'll be cheered on by thousands of spectators on Prince Edward Road.
Spectator support
There are plenty of places along the route for your friends and family to cheer you on. The most iconic spot is the Tyne Bridge, but it's also the most popular, so it may be tricky for your supporters to spot you among the sea of people unless you're both eagle-eyed. If the plan is for them to watch from somewhere close to the city, we think both Gateshead Stadium and Heworth Junction are brilliant spots. The stadium is an iconic place to watch from and soak up the atmosphere, while Heworth Junction around mile 5 offers a better opportunity for your supporters to spot you as you go by!
For the best chance of your friends and family to see you race, tell them to download the Great Run app. It'll let them track you as you race through the course, so they'll know exactly when to cheer. But above all, let them know to plan their journey ahead of time. There will be road closures throughout the course, and some of the best viewing points are a considerable distance from Metro stops and car parks.
Celebrating your success
If you're not a professional athlete and don't have another half-marathon to complete next week, now's the time to celebrate having done it! You've officially completed the Great North Run, and that's quite a feat. Your medal, and your completion time (no matter how fast you ran), are things you can take pride in. So, remember to:
Reflecting on your journey
Reflecting on your journey means recognising your accomplishments and appreciating just how far you've come. By now you'll know that running thirteen miles doesn't start at the start line. It starts with weeks of dedicated training and a hunger to take on a challenge and beat it. You've shown your family, friends, the world, and yourself what you can achieve with dedication.
And it's not just the accomplishment of running a half-marathon. You've also raised money for charity and are making a positive impact in the world. That's two achievements in our books, and both are equally impressive!
Sharing your story
We mentioned earlier about the importance of keeping your donors engaged throughout your fundraising and the build-up to the race. But afterwards is no less important! The people that donated to your cause did so because they resonated with your story. That means they want to know the end result – how you got on in the race, your overall experience, how much you raised and the difference that money will make.
Stay active on social media and your fundraising page after the race to share your story and achievements with your followers! Share that glorious photo of you crossing the finish line and getting your medal. Share photos of the highs and lows of training. Thank your donors for getting involved, and tell them exactly where their donations are going. The reason you took up the challenge and made a difference is because you were inspired to. Now, you can be that inspiration for others.
Reaching new goals
Now you've got a half-marathon and a successful fundraising campaign under your belt, why stop there? There are plenty more fantastic distance races throughout the country. If you're raring to try another half marathon, check out the Royal Parks Half Marathon in London. It's the perfect opportunity to soak up the stunning architecture and landscape of the capital as you push for new achievements. Think you've got more in you? Sign up for the London Marathon! It's one of the most famous distance races in the world and attracts more than 40,000 participants each year.
Fancy a distance run with fun obstacles that requires grit, determination and more muscle to make it to the finish? Try the world-famous Tough Mudder or Total Warrior races. You can choose the distance you'd like to run, and you'll be tackling mud, ice and fire along the way. Persuade your fundraising team to take the next step and join you on the course! It's seriously fun, and in endurance races like this, teamwork makes the dream work. Don't forget to take time to recover from the Great North Run before you embark on your next challenge though!
And remember, whatever race you choose next, make easyfundraising a part of your campaign. Whatever supplies you and your team need, from high energy foods and drink to running trainers, resistance bands and gel pads, we're partnered with thousands of retailers ready to donate to your cause. It won't cost you a penny, and it's a great way to cover all those running essentials and boost your way to that all-important fundraising goal. Good luck!