The Stroke Association is the UK's leading charity dedicated to conquering strokes. A stroke can be catastrophic, with wide-ranging, life-changing consequences. There are more than 100,000 strokes in the UK each year; that is around one stroke every five minutes, and almost two-thirds of stroke survivors leave the hospital with a long-term disability or life-changing complications.
That's why easyfundraising have partnered with the Stroke Association to help them raise funds to support vital services and life-changing research.
The number of stroke survivors in the UK is expected to more than double over the next twenty years. That means that more than two million people in the UK will be living with the effects of stroke. Because people are living ever longer lives, the pressure on the UK's already stretched health and social care systems will grow to unsustainable levels. Every single person who suffers a stroke deserves to receive the very best care and treatment available. The Stroke Association are very clear: in order to achieve this goal, action needs to be taken, and it needs to be taken now.
The only way to find more effective stroke treatments and improved rehabilitation approaches is to fund stroke research. The ultimate aim is to help more people to return to independent living after their stroke, to be less affected by disability, and less reliant on care providers and their families – to make the best possible recoveries.
There is a critical need to invest more funds into priority research areas, including cutting-edge emergency treatments for stroke survivors, as well as developing and then rolling out new rehabilitation approaches.
The Stroke Association warns that over the next 20 years, more people every year will be living with stroke, and by 2035 there will be over two million stroke survivors in the UK, with around 700,000 living with long-term disabilities.
Karen's Story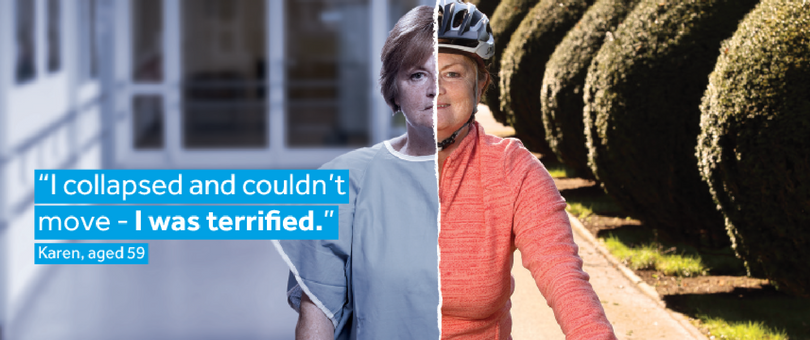 The Stroke Association are highlighting their fundraising drive by sharing 58-year-old Karen's experience of a stroke as part of their 'Change the Story' campaign. Thanks to the quick-thinking actions of her son and the paramedics, who he called as soon as he realised she was having a stroke, Karen received immediate cutting-edge treatment in a state-of-the-art stroke unit. Karen's condition was extremely serious but, as a result of this innovative treatment, she recovered quickly. After a short period of rehabilitation, she is now back to leading a full and active life and is full of plans for her future. In fact, amazingly, she has recently completed a gruelling 150-mile cycle ride. Without stroke research, Karen's outcome could have been very different.
By teaming up with easyfundraising, the Stroke Association will be able to raise more funds to plough into essential research – both to prevent strokes occurring in the first place and to assist those that have experienced a stroke live the best life possible going forward.
Simply by shopping through easyfundraising for everything you buy online, you could help save lives and also help people whose lives have been impacted by a stroke live a more independent, happier, more fulfilling life.
Register with easyfundraising today to help fund stroke research and change the story for stroke survivors.