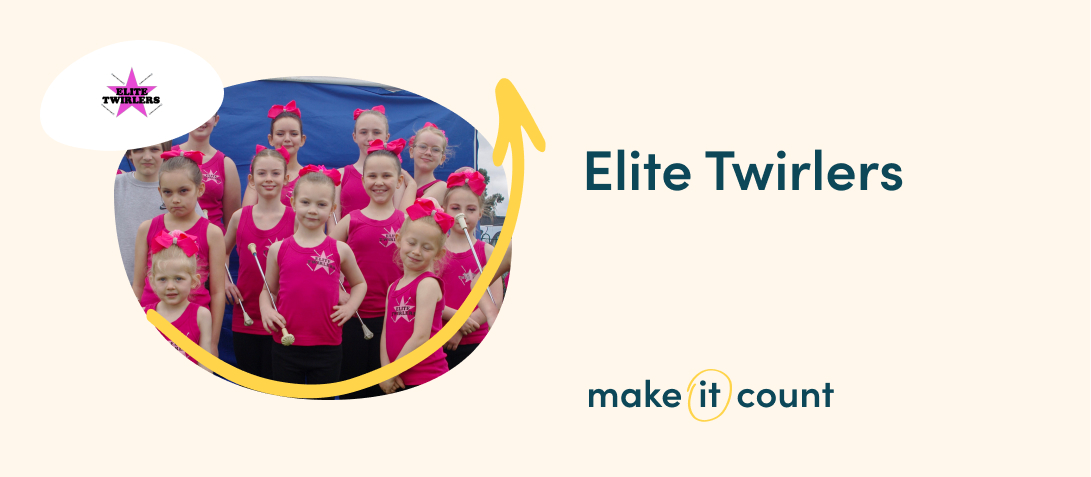 As part of our new #MakeitCount campaign, we're thrilled to share the inspiring work of some of our amazing causes using easyfundraising. We spoke to Donna from the Elite Twirlers, a voluntary community group run to help children learn how to use all different pieces of majorette equipment.
Elite Twirlers believes that every child should be able to join in on the fun, even if money is tight. This group is making a big difference in their community by giving children these opportunities. Donna commented, "Our goal is to make this activity available to all. It helps children be part of a team, Improves hand and eye coordination, builds confidence and forms life-long friendships."
We asked Donna why the group signed up for easyfundraising and what they think of the platform, "We signed up for easy fundraising as it not something that costs our supporters money but means they are donating. I like that supporters can sign up and its not costing them financially. They are still getting what they need and we can benefit from it." Their top tip for someone new using easyfundraisng would be to "look out for the special deals as can mean you get a great deal for what you want and ensure we get a good donation."
Do you do any other fundraising outside of easyfundraising?
Outside of easy fundraising, during the summer months we have a game stall to help raise funds. This year we have done a sponsor scavenger hunt as well.
We take part in competitions and are part of a grading system where the children can earn badges for their achievements. We are able to do this in house, to take the pressure off, it is based on a learn as you go system. So no pressure of Pass or Fail. We work on a everyone can get there and all members of youngest to eldest work together.
Thank you, Donna!
Let's make every purchase count for the Elite Twirlers! Sign up today and donate to them for free as you shop. Sign up here.