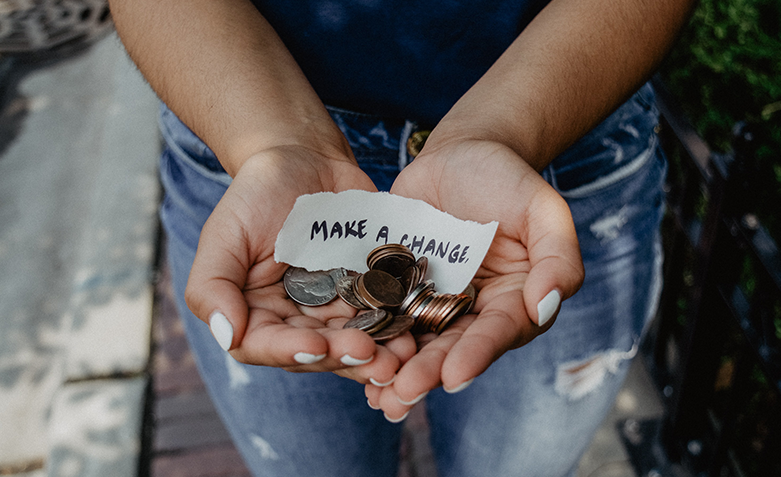 In the world of finance and commerce, there are so many confusing terms out there with multiple meanings and interpretations that it's tough to remember what they all mean. And 'cashback' is one of the most notoriously tricky.
If you don't know what cashback is when you're making purchases online, whether routine or once-in-a-while expenses, the chances are you're missing out on financial rewards for shopping with the retailers you choose. You could even miss out on the chance to use that cashback opportunity to donate to charities that you're passionate about.
Here, we'll explain exactly what cashback is, and how you can use it to donate up to an extra £100 a year to your favourite charity simply by shopping online as normal. Read on to find out more…
What is cashback?
'Cashback' has several definitions, from receiving cash when you visit a shop and pay on your debit or credit card, to receiving a reward when you spend a certain amount of money using your credit card. It also refers to a program where you earn back a percentage of the money you spend with particular retailers and online businesses.
You can earn cashback on all kinds of purchases, from hotel stays to clothing, groceries to technology, and it's this definition we mean when we refer to cashback at easyfundraising.
How does cashback work?
Generally, retailer cashback offers can involve quite a complex journey from purchasing an item or service and receiving the cash reward. This is the way it usually works:
Step 1:
You purchase an item or service included in the cashback promotion whether online or in a retail store.
Step 2:
After you've made your purchase, you'll be prompted to fill in a promotion form or head to the promotion's website and submit proof of purchase (typically a confirmation email or receipt).
Step 3:
Once the retailer or service provider running the promotion sees your proof of purchase, they'll validate your participation in the scheme.
Step 4:
After your purchase and submission to the cashback promotion is validated, you'll then receive the cashback refund to your bank account or the card you made a purchase with. Or, depending on the retailer and the Ts and Cs of their promotion, you could be offered a gift card instead of cash. Once that's done, the process is complete!
If you would like to pass on cashback from your online shopping to charity, click here to find a cause to support and register today.
Does cashback mean free money?
Essentially, yes. Cashback is 'free money', but there is still a cost. Whether it's a retail promotion or credit card reward scheme, you'll need to buy a specific product or spend a certain amount of money in order to qualify for that cashback reward.
This is why we aren't fans of the term 'free money' when describing cashback. If you are making a planned purchase anyway, then yes, it is free, but if you are making purchases you don't need in to gain a cashback reward, you will spend considerably more than you get back.
At easyfundraising, we do cashback a little differently. Whenever you shop online via our website, you can actually use that cashback to raise money for causes and charities close to your heart. Here's how it works…
How to raise money with cashback
Raising money with cashback is perhaps the easiest way to donate money to your charity or cause. Plus, it doesn't cost you a thing (except for the product or service you're buying anyway).
First, think about the charity or good cause you want to raise money for. It doesn't have to be a major charity, it could be something like your child's school, pre-school, a sports team, religious group, youth club, fundraiser or any other organisation. The condition is that the cause you choose is not for profit.
Next, sign up to easyfundraising and register your cause. It's free to join and takes only a few minutes to complete registration. Then, head to the retailer you want to shop with via our website. We work with over 6,000 retailers including big names like John Lewis, Amazon and eBay, as well as holiday operators, insurance providers and comparison sites.
Once you've completed your purchase, the company you buy from will donate a small amount to your cause as a 'thank you' for shopping with them. Easy.
Depending on who you shop with and the items you purchase, the donation value usually ranges between 0.5% and 10% of the total sale value. However, some retailers and service providers will pay a set fee instead. You could raise over a £100 each year without even changing your online shopping habits!
Every three months we work out how much each registered shopper raises, and, if it's over £15, we'll either transfer the money to your cause's bank account or send a cheque in the post. If it's not, we'll roll it over to the next three-month period. 
There you have it! That's everything you need to know about cashback and how to turn your online shopping into donations to your cause. Just remember to begin your online shopping journey via the easyfundraising website and you're good to go. Think you'll forget? Not to worry – download the Donation Reminder plugin onto your desktop and it'll let you know whenever a donation is available, whatever website you browse through.
Happy shopping!